Question: I own the iPod touch but am having difficulty getting a wifi signal. How do I get around this?
Answer: The iPod touch gives you wireless access to the web, but only if you're in range of a wifi access point.
From Apple's web site: "iPod touch finds wireless networks and connects you to the Internet". That can be a little misleading to some people, especially since not everyone knows that most wireless networks only have a range of a few hundred yards.
Not all wifi networks allow free Internet access either. Many wifi centers like Starbucks or McDonald's charge you 2 or 3 bucks for the connectivity, which can add up quickly!
Here's how to connect to the Internet with an iPod touch:
Assuming you have a wifi network at home, or are near a wifi hotspot, go to Settings and then Wi-Fi on your iPod touch.
Choose your Network, and enter a Password if prompted, and you should be connected to the internet. Note: Make sure the password you enter is the password for the wifi network and not the password for your computer.
If you don't see a network in the list of networks, then you might not be in range of any wifi access points.
Connecting to Commercial Networks (hotels, cafes, etc)
If you're trying to connect to a cafe wifi like Peet's Coffee, or a hotel wifi network like The Hilton, then you'll usually need to agree to their Terms & Conditions before they'll let you access the internet or check email.
Open Safari and try to visit a web site like google.com and you'll see their terms and conditions page. Accept the terms (and pay any usage fees if applicable) and you should be able to get online.
Try renewing the DHCP lease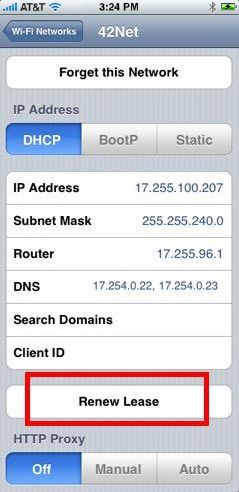 If you are having issues connecting to a Wi-Fi hotspot, like at an airport or coffee shop, try renewing your DHCP lease.
1. Tap Settings >> Wi-Fi Networks, then tap More Info (

) next to the network.
2. In the DHCP panel, select the Renew Lease button.
Try forgetting the network
Sometimes it's possible to resolve itouch/iphone network issues by removing the network connection and letting the device recognize the network from scratch.
Follow the same steps above for opening network settings, but click "Forget Network" to delete the connection.
Wait for your iTouch to disconnect and then reconnect.
Additional Tips:
UPDATED: Check out the first comment on this post that discusses DNS settings for getting your iTouch working using OpenDNS (and thanks a million to the person who posted it - you've helped thousands of readers get their iTouch connected!)
Here are a few other things to try (taken from Apple's support page):
Check the website for the manufacturer of your router/Wi-Fi access point to see if you have installed the latest firmware/software update for your router/Wi-Fi access point.
If you have more than 1 WEP key configured on your router/Wi-Fi access point, try deleting the other WEP keys and just have 1 WEP key configured on your router/Wi-Fi access point.
Try resetting your router.
Try turning OFF wireless security on the router/Wi-Fi access point such as encryption and enable your SSID to be broadcast to try and isolate the issue.
As a last resort, consider performing a factory restore/reset of your Wi-Fi access point.