I showed you a while ago how to link your Facebook account with Twitter, so that whenever you posted something to Facebook it would automatically show up on Twitter.
However, I quickly discovered that many of my personal Facebook updates were "TMI" for my Twitter followers, and my business-related tweets were gobbly-gook to my Facebook friends. So I turned off the Facebook-Twitter integration.
Recently I discovered a better (and free) tool for handling Twitter and Facebook integration: TweetDeck
TweetDeck lets you create links to both your Twitter and Facebook accounts, and then lets you identify which service(s) your updates will be sent to. So you can post to just Twitter, or just Facebook, or you can update both Twitter and Facebook in one shot. That's the kind of control I was looking for!
How to set up Facebook and Twitter in TweetDeck:
1. Download and install a free copy of TweetDeck if you haven't done so already.
2. Click the Settings button in TweetDeck.

3. Select the Accounts tab and click "Add New Account".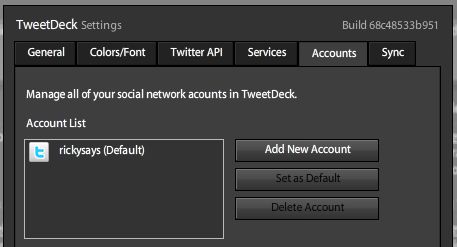 4. Click the "Add Your Facebook Account" link and enter your Facebook account information.
You'll be asked to allow access to your Facebook account, and to allow TweetDeck to publish to your Facebook acount.
5. Type in your tweet like you normally would, and choose both Facebook and Twitter in the "From" section in TweetDeck.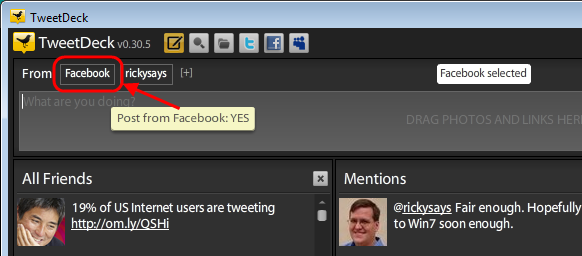 You can toggle either buttons on or off, depending on whether you want to post to both Facebook and Twitter, or just one of them.
Tweetdeck also lets you view your Facebook news feed, status updates, and wall posts. Just click the Facebook button at the top of TweetDeck and add a new Facebook column.
Next I'm hoping they come out with a LinkedIn plugin for TweetDeck, so I can manage Twitter, Facebook, and LinkedIn from a single place.