Many people pay an extra $10 - $15 a month for a DVR to record TV shows and movies and view them later.
Did you know you could be recording TV and cable shows directly to your computer for free?
All you need is an audio/video capture adapter that plugs into your computer's USB port, like the EasyCAP USB2.0 Video Capture VHS-to-USB Adapter
. Once you've hooked the adapter up between your TV and your computer, you'll be able to record any show directly to your computer in a digital video format of your choice (avi, mpeg, wmv, etc).
You can also edit the videos to remove commercials, and can even transfer these videos to your iphone or other mobile device to view them on the go.
Here's what the adapter looks like, with cables that will plug into your TV's RCA or S-Video jacks on one end, and into your computer's USB port on the other end:

The USB end plugs into your computer, and the RCA jacks plug into your TV, VCR, or cable box.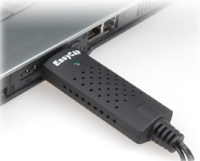 The adapter comes with Ulead Movie Maker software that you'll run on your PC. With the software running, you'll click "Video Capture" when your TV show or movie comes on and the show will be saved to your computer in high quality digital video and audio.
Yes, this adapter could also be used to make backup copies of your DVD or VHS movies (just be sure to honor any copyright laws that may exist in your country).