Wondering how to convert your DVD movies into a video format that will run on your new iPhone or iPod?
I looked at two programs that rip DVDs into mp4 video format for both the Mac and PC.
I found a free open-source program called Handbrake that worked on a Mac but wouldn't rip copy-protected DVDs on a PC. I also found a program called Aimersoft DVD Ripper that converts DVDs into mp4 format for both iPods and iPhones. It works great on both Windows and Mac OS X, and also takes still shots of movie frames - a very useful feature.
Handbrake
Using Handbrake was as easy as plugging in my DVD, selecting the DVD in Handbrake, and clicking a button to kick off the conversion process.
I used The Matrix Revolutions - one of my favorite sci-fi action flicks - and tried it on both the Mac and PC.
The Mac version took a whopping 4 hours to rip the DVD and convert it into mp4 format, which seemed like an eternity. The PC version wouldn't even start the conversion though, complaining that the DVD was copyright protected (which it is).

The Handbrake user interface was also hard to figure out. It has so many options to configure, that I found it difficult to figure out where to start. Due to the slow ripping speed of Handbrake, the large file size of the video file, and since it wouldn't work for me on a PC running Windows Vista (at least not with a copy-protected DVD), I decided to look for another option.
Aimersoft DVD Ripper
Next I downloaded Aimersoft's DVD Ripper, which rips DVDs to mp4 video that will run on iPhones, iPods, and any other device that can view standard mp4 videos.
Here are the download links for Mac and Windows versions of Aimersoft:
Aimersoft DVD Ripper for Windows
Aimersoft was able to rip my copy-protected DVD much faster than Handbrake - it only took about an hour and a half to rip the DVD on the Mac, and about the same amount of time on the PC. That's several times faster than Handbrake in both cases, with the same level of quality, and with a smaller video output file (which will take up less space on my hard drive).
I also discovered an additional Aimersoft DVD Ripper feature - the ability to take still shots at any point during the movie. There's a movie preview window on the lower left side of the screen, and a button that takes snapshots as often and as fast as you click it; saving photos to a folder each time. I really liked this feature.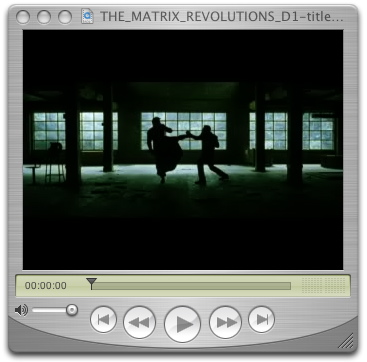 Getting your video onto your iPod or iPhone
Once your DVD is converted to mp4 video format, you can transfer it to your iPhone or iPod by importing them into iTunes and then syncing your iPhone.
Plug your iPod or iPhone into your computer using your usb data cable. Select Videos in iTunes and then drag the mp4 files onto iTunes from Windows Explorer.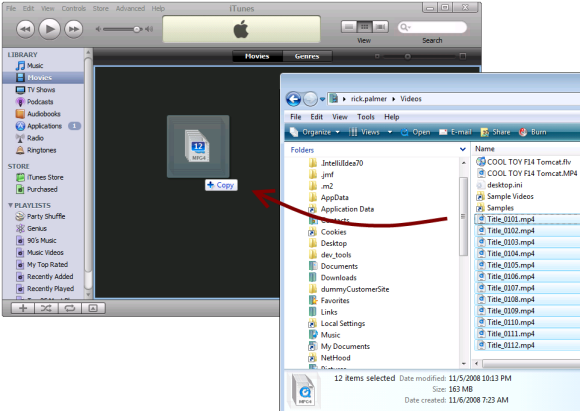 When you sync (by clicking the "Apply" button), iTunes will copy the videos over to your iPod or iPhone.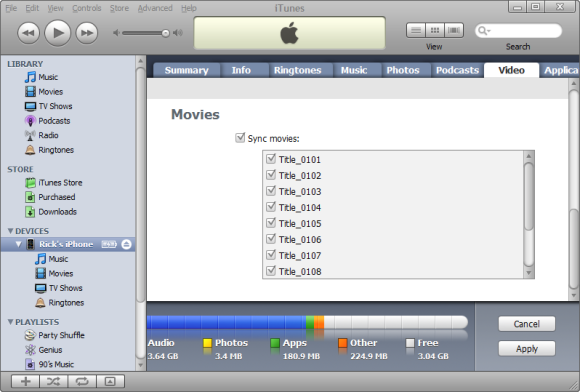 There unfortunately isn't a way to copy movies directly from your computer to your iPhone or iPod without using iTunes, and you'll only be able to sync with one computer.