Question: I occasionally want to take a picture of my Blackberry screen to explain to friends or coworkers how to do something on the phone, or to show them what a game looks like. Is this possible?
Answer: Yes, it's possible to take screen shots of your Blackberry device using a free program called BBScreenShooter.
You can even take psuedo-video of your Blackberry screen with the BBScreenStream program that takes snapshots every half second or so in a continuous loop - similar to video surveillance cameras.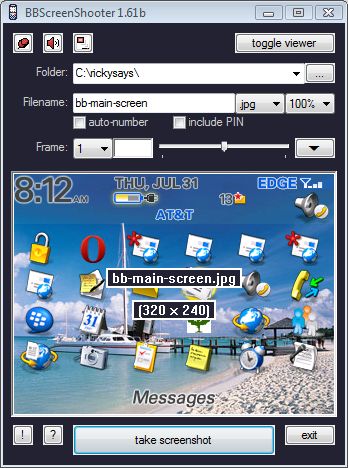 You'll need the javaloader.exe that comes with the Blackberry development kit, which you can get from Motorola. The dev kit is a huge download though, which seems overkill for just one file - so I stuffed it in my downloads folder and you can get JavaLoader.exe here without having to download the whole dev kit.
Place JavaLoader.exe and bbscreenshooter.exe in the same folder, and then double-click bbscreenshooter.exe to run the application.
Make sure your Blackberry device is connected to your laptop using a USB data cable, which should have come with your Blackberry when you bought it (at least mine did from AT&T).
You can specify the image file type (bmp, jpg, png) and the folder where screenshots will be saved. Then just click the "Take Screenshot" button whenever you want a screenshot.
BBScreenShooter will save a copy in the folder shown at the top of the program, and with the file name that you type in.