Hackers just never STOP, do they?!
The latest malware virus to hit the streets is a nasty one - it's called Windows Control Series, and it's the best one I've seen yet. The best, meaning that it came the closest to fooling me into thinking it was really trying to help me clean my system.
That's how malware works btw. They wreak havoc on your system by not letting you open your web browser or email without prompting you with a warning, or in this case without you plunking down some money to fix the problem.
And that's how I always know when I'm dealing with malware, because Microsoft NEVER asks you for money in order to fix a virus attack. If you've been attacked by malware in the past, or even worse have paid money to fix a virus problem, then you need to keep reading.
What is the Windows Control Series virus?
You'll know right away if you've been infected by this malware virus because you'll see a warning popup when you log into Windows, or try to open a web browser, or click on a web link in an email message.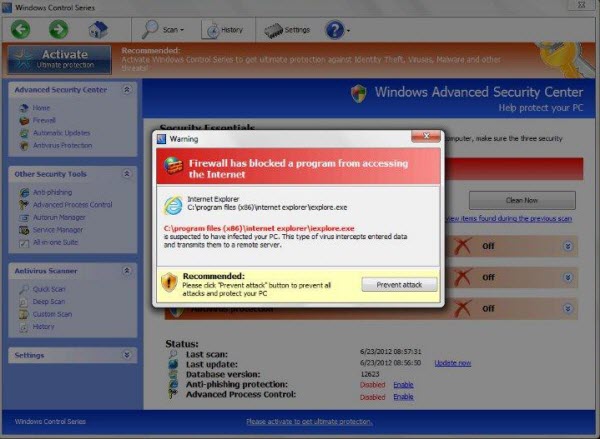 What does Windows Control Series do to your system?
This virus also takes over your Windows Task Manager, so when you try to shut down programs and services you won't get Window's task manager... you'll get a hacked version.
If you try to open a browser to download a malware removal tool like Spyware Doctor from PC Tools, it won't let you even open the browser.
If you try to open your registry to manually remove it, you'll get a warning message and be asked to pay money to fix the problem.
How do I remove Windows Control Series?
Since I assume you'd like to actually use your computer, which you won't be able to do until you remove Windows Control Series, let me save you some time and headache by walking you through the steps I took.
First, I started by downloading a copy of Norton Internet Security from another computer. I used a different computer because the one that was infected with the Windows Control Series virus wouldn't let me open a web browser to download anything.
[NOTE: I don't recommend that you download Norton - it didn't end up working for me. Read on and I'll get to what actually worked]
Next, I copied Norton to a USB flash drive, copied it over to the infected laptop, installed it a ran a scan. Norton thought it fixed a few things, but I kept getting the Windows Control Series popup warnings! FAIL.
Next, I restarted the laptop in Safe Mode. I chose Safe Mode because that runs Windows with nothing but the bare minimum number of services necessary to start the computer, and it doesn't run any additional programs... like virus or malware programs.
I ran Norton in Safe Mode and it still seemed to think it had fixed everything; but when I restarted back in Normal Mode, I was still getting the popup warnings and still couldn't open my web browsers (I tried Chrome, Firefox, and Internet Explorer and all of them failed).
FINALLY, I decided to try Spyware Doctor from PC Tools.
I was able to install it in regular Normal Mode on Windows, ran a scan and it was able to completely remove the Windows Control Series malware virus in a few seconds!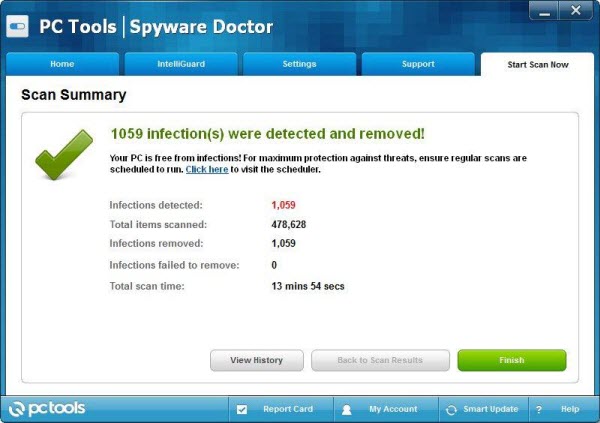 Here's a link to Download Spyware Doctor from PC Tools for only $34.99 (savings of $10 off regular pricing). It covers up to 3 computers so that ends up being just under $12 per computer. Very affordable and worth every penny to have my computer back in action.
Spyware Doctor also has a built-in guard that doesn't allow known viruses to be installed in the first place. So when my kids are downloading screen savers and facebook apps, I don't have to worry about my computers getting infected.
The morale of the story - if your computer gets infected by a malware virus and becomes unusable, don't waste your time or money on Norton. Download Spyware Doctor from PC Tools and it will quickly have your system cleaned up and will protect you from future infections.