Last week I took my family to Cabo for vacation, and we did one of those snorkeling cruises where they take all kinds of great pictures and then let you purchase the DVD of all the photos (which I did). When we returned home, I wanted to upload those pictures to my facebook page so my friends and family could see them.
It's a 2-step process. First I imported the photos from the DVD to my computer, and then I uploaded those pictures from my computer to my facebook page.
Here's how to upload photos from a DVD to Facebook
1. Import the photos from your DVD to your computer.
Insert your DVD into your computer's DVD drive and wait for the Autoplay dialog to pop up.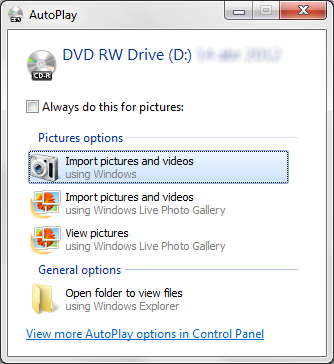 Choose the "Import pictures and videos" option. You can tag your photos with something that'll help you find them later, and then click "Import" to copy them from the DVD to your computer.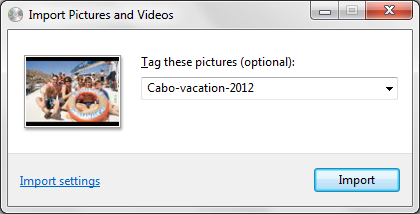 The pictures will be uploaded to your Pictures folder, which is "C:\Users\Rick\Pictures" on my computer.
2. Upload the photos from your computer to your Facebook page.
Now that the photos have been imported to your computer, you're ready to upload them to Facebook.
Log into your Facebook account and click "Add Photo / Video" at the top of your homepage.

Click "Create Photo Album" and then click "Select Photos to Upload".
You'll be prompted for the location of your photos that are on your computer from Step 1 above. Find them, select the ones you want to upload, and that's all there is to it!
Here's another tip: hold the Ctrl key down while selecting photos. This will let you select individual photos on your computer.
Happy uploading, and I'm sure your friends will love seeing the new photos you'll be posting :-)