I've been snapping pictures left and right with my new Canon Powershot, especially now that the holiday season is underway and I've been on vacation all week - plenty of photo opps with Thanksgiving dinner and the kids helping me put up Christmas lights.
I wanted a way to share these pictures with friends and family using all free tools (preferably a single software program), and what better place to do that than Facebook?
Google's free Picasa photo editor can import photos from your camera's SD memory card, and you can install a plugin that will let you upload photos directly from Picasa to Facebook (notice the Facebook button in the Picasa toolbar shown below).

Here's how to install the Facebook plugin in Picasa so you can upload photos directly from Picasa to Facebook:
1. Open Facebook in your web browser and click "Applications" in the lower left side of your Facebook home page. Then click "Browse More Applications" in the popup menu.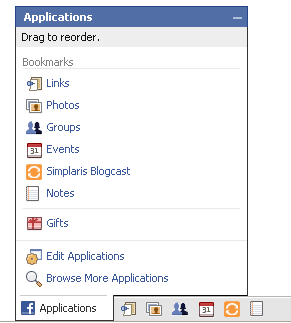 2. Enter "picasa" in the application search field on the top left of the page, and select the first match named "Picasa":
3. Click on "Go to Application" to configure the Picasa plugin.

4. Install the Picasa plugin, which will install the Facebook button in Picasa.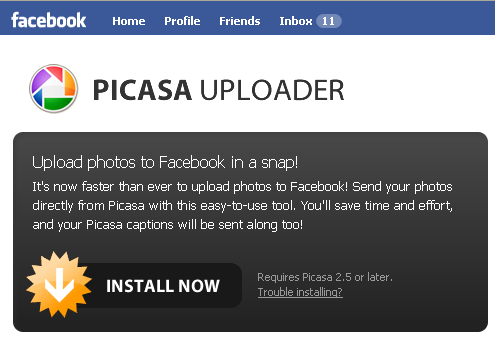 5. Select some photos in Picasa and click the Facebook button that will now appear in the toolbar buttons at the bottom of your Picasa screen.
Picasa will upload your photos directly to Facebook, either to an existing photo album or will let you create a new photo album on the fly.
Most digital cameras use SD Memory cards that you can plug into a media card reader on your computer to import them, or you can use the USB data cable that came with your camera.
When you plug in the memory card or usb cable, Windows will ask you what you'd like to do and you'll see an option to "Copy pictures and view them using Picasa3".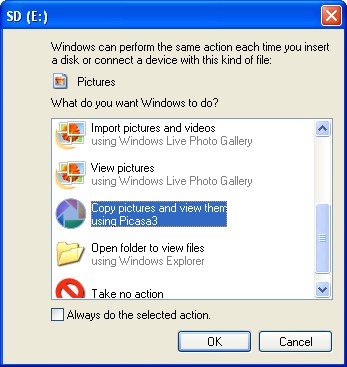 Once Picasa has imported your photos then you can click the Facebook button to upload your photos directly to Facebook.