United Airlines now offers a technically advanced airport check-in option that let's you use a bar-code on your mobile device.
It's environment-friendly because it saves you from having to print a boarding pass, and it saves you time because you don't have to stand in line to get your boarding pass if you aren't checking any luggage.
The new program is still in beta and was just announced a few weeks ago. I had the chance to try it out today while flying back to Portland from a business trip to Chicago and it worked flawlessly.
With the new mobile check-in option, you visit http://www.united.com on your mobile device (iphone in my case), find your itinerary and choose the mobile checkin option.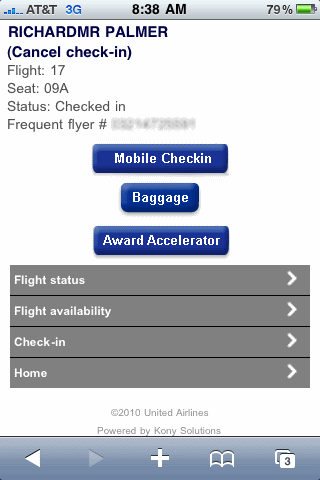 You'll be asked to provide an email address where you'd like to receive the mobile boarding pass, and you'll receive an email message containing a link to download your mobile boarding pass. Once you get the email with the link, then you click the link to open a web page on your mobile device that contains the actual mobile checkin bar-code.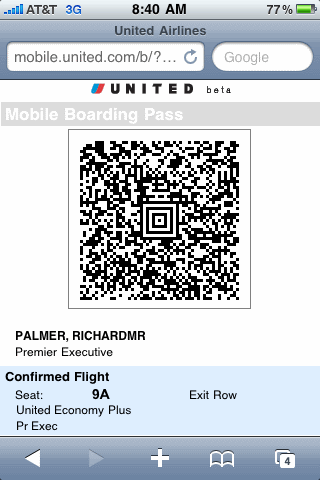 I was hoping it would be fewer steps than this, but it's still fairly convenient and straight-forward.
Here are the 5 steps again in order:
1. Check in on your mobile device
2. Provide your email address
3. Download the email message sent from United
4. Open web page link containing bar code
5. Scan bar code at the airport security checkpoint and also at the airport gate.
Just to be safe, I'll admit that I printed out a boarding pass in case something went wrong (I didn't want to be "that guy"... the one who holds up the line because he forgot to have his ID ready). But nothing went wrong and I even saw a couple other guys doing the same thing.
I think this program is going to catch on quickly. I liked not having to wait in line for a kiosk to check-in and print my boarding pass, and I was able to do everything from my iphone with zero hassle.