Digital picture frames are awesome. I have one at work, my wife has one at home, and we gave my parents one for Christmas this year.
Transferring pictures from your computer to a picture frame is a matter of copying the pics to a memory card or usb flash drive, and then plugging the memory card into your picture frame.
Here's a step-by-step guide for loading pictures onto a digital picture frame:
Step 1: Find the pictures on your hard drive
If you're using Windows Vista, then your pictures will most likely be located in the Pictures folder under your User folder (C:\Users\YourName\Pictures).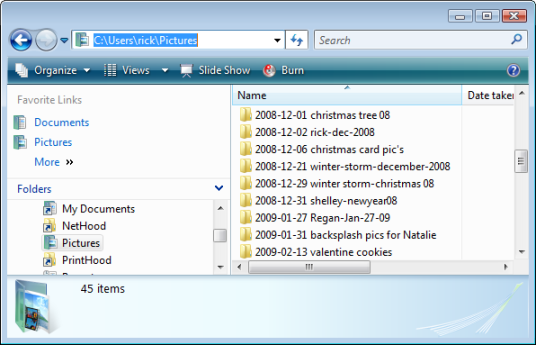 Expand the Pictures folder and find the photos that you'd like to view on the picture frame. If possible, copy them all to a single folder location, as that will make the next step much easier.
Step 2: Copy the pictures to an SD Micro memory card, or to a USB Flash Drive
Find the SD Micro memory card slot on the side of your laptop, or in the front of your desktop, and insert the card. Memory cards are dirt cheap these days, and you can get a 2GB card for under $10 on Amazon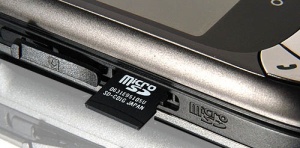 If you don't have a memory card slot, you can buy a memory card reader for about $15
that will plug into one of your USB ports. You can also use a flash drive, which you'd also insert into an available USB port on your computer.
When you insert the memory card, Windows Vista's AutoPlay feature will prompt you for the action to take. Select the Open folder to view files option.
If you don't get the prompt, then just open Windows Explorer and you should see a new drive letter listed below your C: drive or D: drive.
Copy the pictures from their current location (from Step 1) and paste them into the memory card drive. You can do this by right-clicking on the folder containing your pictures, selecting Copy, and then right-clicking on the memory card drive and selecting Paste.
Step 3: Plug the memory card or flash drive into your picture frame
This last step is the easiest one because the picture frame will automatically search your memory card or flash drive for photos, and will automatically display them in a slide show on your picture frame.
You'll find an SD Micro memory card slot on the side or back of your picture frame, and most frames also have a USB port for inserting a flash drive.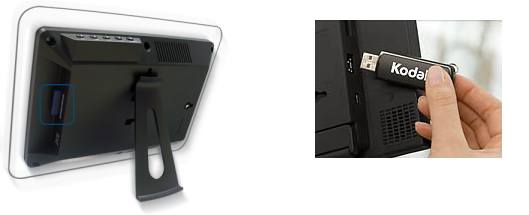 Your particular frame might have a variety of features and slide show settings, and many even allow you to play videos with audio or background music.
That's all it takes to load pictures onto a digital picture frame for hours of viewing.