Have a video you've recorded that you're proud of or that you'd like to share with friends and family?
This article will show you how to connect your camcorder to your PC, copy your recording to your computer, make a movie and publish it to YouTube or BlipTV or burn them to a DVD that will play in your DVD or Blue-Ray player - all using free software that's already bundled with Windows Vista Premium (along with a recommendation for a top notch movie making program if you don't have Vista Premium).
The only thing you'll need to buy if you don't have one already, is a Firewire DV cable that will connect your camcorder to your computer. Once connected, you can easily make movies out of them using free tools that are built into Windows.
You can also make backup copies of your miniDV digital video cassettes on your computer and burn them to a DVD, or convert them into mp4 video format and transfer them to your iPod or iPhone.
Connect your Camcorder to your Computer
I own a Canon ZR800 digital camcorder, which is a very popular model that takes great videos using standard MiniDV cassettes. I recently took some video of my 10-year-old daughter's talent show she did with 3 of her friends at school, and several other mothers wanted a copy of the video.
First I had to run over to RadioShack to buy a 4-pin Firewire cable, which doesn't come with the Canon ZR800. My Compaq 6910p laptop has a 4-pin Firewire port, and my Canon camcorder has one as well, so $26 later I had the cable I needed from RadioShack. You can find the Firewire cable on Amazon
for even less than that, but I needed it right away and couldn't wait for it to ship.
Connect the 4-pin end of the cable into your camcorder and the other end into your IEEE1395 4-pin or 6-pin Firewire port on your computer. If you don't have a Firewire port on your computer, you can get a Firewire CardBus Adapter
that will plug into an available PCMCIA slot.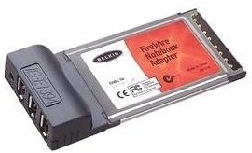 Copy your Video Recording to your Computer
With your camcorder connected to your computer, turn on the camcorder and Windows will automatically install the necessary drivers. You'll be prompted to import video from your camcorder using Windows Import Video, a free service that's bundled with Windows.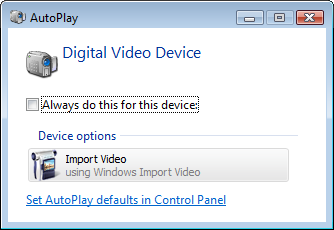 Windows Import Video will automatically rewind your MiniDV cassette if you haven't done so already, and will begin to import your video. The camcorder will play your video during the import, and the resulting file will be have a .avi file extension.
Make a Movie out of your Video Recording
Once the video has finished importing, you'll be prompted to open the .avi file in Windows Movie Maker. This is also a free program that comes bundled with Windows Vista Premium and is very easy to use.
If you don't have Vista Premium, then you'll need to purchase a movie making program separately. I recently got my hands on Corel's new Digital Studio 2010 and actually preferred it over Vista's Movie Maker. The price tag was a little steep ($99) but it has every bell and whistle you can imagine and is currently on sale for only $79.99.
You can either make individual clips out of each segment that's recorded on your camcorder, or you can just import all of the segments as a single file. I recommend the latter option (single file) because it still splits up each segment into a different clip inside the avi file, and you can easily edit each clip with Windows Movie Maker.
Here's a clip my wife recorded of me getting stuck under our TV armoire after crawling under it to hook up some cables for the Wii. I used to be able to do this with no problems, but this time my holiday pounds got in the way and she happened to have the camcorder handy to capture the moment:
Using Windows Movie Maker I was able to edit out the part where I got a little upset with my kids for tickling my feet mercilessly (after all, the TV weighs about 160 lbs and I'd hate to have it tip over and break my legs).
You'll see a "Split" button on the right-side of the screen in Windows Movie Maker that you can edit out portions of your movie. Play your movie until you get to the part you want to remove, and then click "Split" to split the remainder of your movie into a separate video clip. The clips are all shown at the bottom of the screen, and then you can create another split at the end of the portion you want to remove.
You'll end up with three clips using this approach (one for the start of your movie, one for the part you want to remove, and one for the remainder of your movie). Delete the one in the middle and you'll have removed the unwanted part of your video.
Publish your Movie to YouTube or BlipTV
Once you've edited your video to your liking, Windows Movie Maker will let you publish it into a movie, which will combine the movie clips you've selected and bundle them together in a video file with a .wmv extension. This file can be uploaded directly to YouTube or BlipTV, where it will be converted to flash and made accessible to other viewers like your friends and family.
You'll need to create an account on YouTube or BlipTV, and then look for an Upload link near the top right of your profile screen. Enter the location of your movie file, which will have a .wmv file extension, and then click "Submit" to transfer the movie. Both YouTube and BlipTV will convert the .wmv file to a Flash video and will give you links that you can email to your friends so they can see your movie.
Burn your movies to a DVD
The best way to preserve your recorded memories is to burn the videos to a DVD. They'll last longer on the non-magnetic DVD discs and you'll be able to play them for your family and friends on a regular DVD player or Blueray player.
I've covered how to do this in a separate article located here:
http://www.rickysays.com/burn-videos-to-dvd
You'll be a professional movie maker in no time using these tips.