Question: I recently purchased a Motorola W376g camera phone from Tracfone, and I'd like to get pictures I took on it over to my computer. Is this possible?
Answer: The Motorola W376g from Tracfone is basically the Motorola KRAZR phone with the same built-in 1.3 megapixel camera. The KRAZR is a Bluetooth-enabled phone that has a USB port for file transfers between the phone and a PC using software like Motorola's PhoneTools or DataPilot.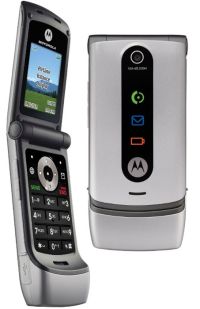 However, these features are disabled on the Tracfone W376g for data transfer. The USB port is only used for charging the phone and Bluetooth is only enabled for connecting with hands-free devices.
Tracfone offers this phone at only $29.95 with no activation fees, and you purchase minutes for airtime (ie. you prepay for only the minutes you want/need). They've disabled the data transfer features and force you to use airtime instead.
You can still transfer pictures from your Motorola W376g phone to your computer by sending them as an email.
Sending photos from a Motorola W376g to a PC using email:
To do this, open the picture by clicking the main center/menu button on the phone and then selecting Multimedia -- Pictures -- Additional Storage Device. Scroll to find the picture and select Menu -- Send in Message.
You can enter an email address to send it to your computer, and it'll show up as a file attachment in your email inbox. You can also enter a phone number and send it to any other mobile device that supports picture messaging, including other Tracfone W376g phones.