Android mobile phones have a lot more configuration options than an iPhone, which is one of the reasons I love my new Samsung Galaxy S4.
Take the lock screen - the screen you see when you first press the home or power button on an Android mobile device. When you first buy the phone, you'll just see a blank screen with the time at the top, like this: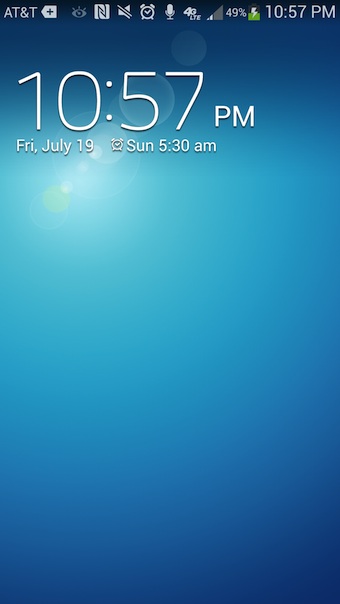 Just like with an iPhone, you swipe to the right to unlock the Galaxy S4, but the iPhone has a camera icon on it's lock screen that lets you jump right to the built-in camera on the iPhone without unlocking the phone.
The Galaxy tops that by letting you configure multiple shortcut apps, and letting you vertically swipe them to both unlock the phone and jump right to the application.
To add shortcuts to the lock screen on a Samsung Galaxy S4, go to the main screen and tap the menu button on the lower left.
Tap "Settings" and then "Lock screen" under the "My device" tab.
Check the "Multiple widgets" option and turn Shortcuts to "ON".
This will turn on a handful of helpful shortcuts, that will show up on your lock screen the next time you turn your phone on.
To change the app shortcuts that are displayed, simply tap "Shortcuts" on the lock screen configuration screen. You'll see a "Set shortcuts" screen where you can drag and drop application shortcuts, to delete or change the order, or to add new ones.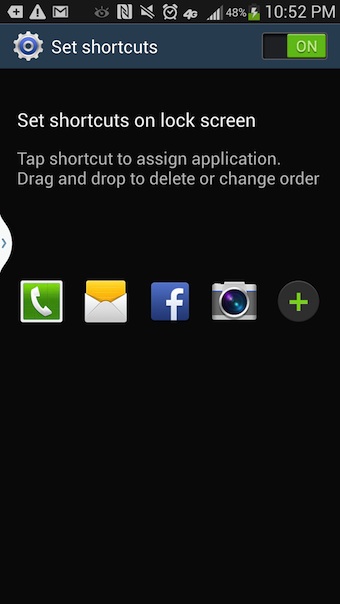 To add new shortcuts to your lock screen, just tap the "+" button on the right side of the screen above.
That's all their is to it. The next time you turn your phone on, you'll see the application shortcuts on the lock screen.