I've had my Motorola RAZR V3 phone sitting in my desk for about a year now, after upgrading to a Blackberry Curve (which I recently upgraded to an iPhone).
Figured it might be worth something to someone, so I put an ad on craigslist for $50 and was able to sell it the next day for $35. Not bad for a very popular phone that take camera pictures, shoots video, browses the web, and lets you text message your friends.
Before I handed the phone over though, I wanted to erase all of the pictures and address book contacts (preferably without having to delete them one by one).
The RAZR has a built-in menu option for wiping the phone clean and resetting it to factory specifications, with all of the default settings it came with out of the box.
Click the menu button, and then select "Settings" -- "Initial Setup" -- "Master Clear".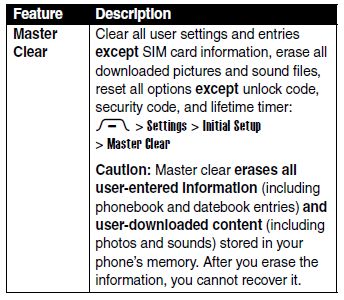 This will reset all the default factory settings for your Razr phone, and will also delete all user content. That includes pictures, address book entries, ring tones, text messages, the work.
You'll be asked to enter a security code, which is 000000 by default for AT&T phones (6 zeros).
If you only want to reset your Razr to default factory settings but not delete your data on the phone, then choose the "Master Reset" option instead of Master Clear.

The Master Reset option won't delete your address book entries or your photos.
The Master Clear option will completely wipe your Razr of all data (ideal if you're selling your Razr and don't want any personal files to be visible to the phone's new owner).