If you're selling your Mac or giving it back to your company's IT department, you'll want to protect your personal information by wiping the hard drive and resetting to factory defaults.
There's a very good chance that your laptop or desktop has a wealth of information on it about you, beyond just family photos. Most people have personal email accounts running on their work machines, web browser history, bank account login information, and possibly even your tax returns (which has your social security number on it).
You definitely do NOT want the new owner to see any of this data, which is why it's important to completely erase it all before you make the sale.
Step 1: Backup your data
Before you wipe your old Mac's hard drive, be sure to make a back-up copy of your data, including photos, music, and documents to an external hard drive or online cloud database. That way you'll be able to transfer that valuable data to your new computer.
External USB hard drives are very affordable and many of them come with free backup software that lets you create a full disk image, and save your backups in the cloud, like the MyPassport from Western Digital, that also has a full TB of storage space (twice the size of most Mac hard drives).
Step 2: De-authorize your iTunes account
You can only have 5 computers actively using iTunes at any given time, so be sure to free up 1 of those by de-authorizing your old Mac, so it will no longer be linked to your iTunes account. Open iTunes and click Store > De-authorize This Computer.
Enter your Apple ID and password and click De-authorize.
Step 3: Restart the Mac in Recovery Mode
This 3rd step is important because you won't be able to erase the hard drive unless you restart your Mac in Recovery Mode. You'll also want to make sure you are connected to the Internet (you'll need this for Step 5 to re-install Mac OS X).
Restart the Mac by clicking on Apple > Restart and holding down the Command and R keys until the Recovery Mode Utilities window appears.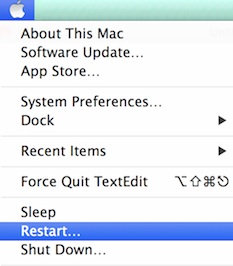 Select Disk Utility and click Continue.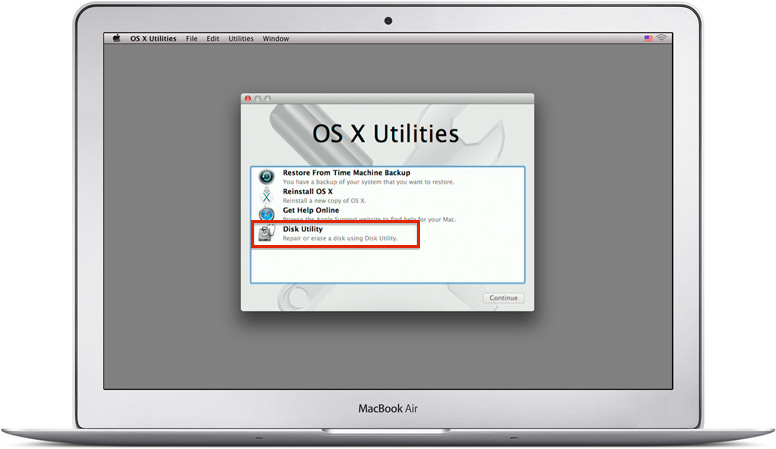 Step 4: Erase the drive
Next choose your main Startup Volume (typically called Macintosh HD in the sidebar on the left, and click on Unmount.
Click the Erase tab and then click "Erase" to wipe your hard drive. Note that this permanently erases all data on the hard drive so don't do this unless you've backed up the drive or don't care about ever seeing your data again.  
When it's finished exit the program and re-install Mac OS X. 
Step 5: Re-install Mac OS X
Lastly, click on Reinstall OS X (still with the Mac in recovery mode).
This will download and install a blank copy of Mac OS X Mavericks on the Mac. Do not enter your Apple ID and password though - leave that to the next person who will be using your Mac.