Selling your Blackberry or just want to get it back to it's original factory settings? Here's an easy way to do it using a built-in menu option.
Find the Settings folder on the main Blackberry screen, and select the following menus:
"Options" -- "Security Options" -- "General Settings"
In the General Settings screen, press the menu button (the button to the left of the track ball) and select "Wipe Handheld" from the popup menu.
Confirm that you want to erase all data on the Blackberry, and be sure to select the option to include any third party applications that you might have installed (e.g. Google maps or the Opera web browser).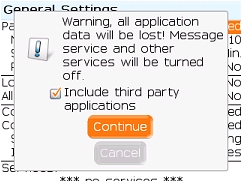 As a final confirmation step, you'll be asked to enter the word "blackberry", and then the resetting process will begin.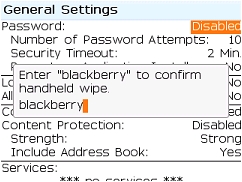 It takes a minute or 2 to wipe a Blackberry clean, which resets it to the original factory settings and removes all address book entries, photos, videos, etc.