My wife gave me a 4 GB black ipod nano as a gift a couple years ago. At the time, it was state-of-the-art and held a very high cool factor rating. I proudly wore it around my neck at work, along with the rest of my gadget-addicted buddies, and quickly filled it up with my favorite songs.
Then Apple had to go and release their iPhone and their new series of iPods with video, and already my nano is feeling outdated, small, and well... old.
If you're like me and are hoping for a new iPod or Zune for Christmas or your upcoming birthday, then how about recycling your old one and making some money along the way? You can get up to $260 for your old iPod, depending on its condition, and up to $75 for your old Zune, by selling it to Beyond The Pod.
Don't worry - this isn't one of those deals where you have to complete several advertising offers, and it's not a ploy to steal your personal information. Beyond The Pod has been in business since 2004 and is a certified member of the Better Business Bureau.
Here's how to recycle your old iPod, Zune, or XBox:
Visit the Beyond The Pod website.
Select your item (iPod, Zune, XBox, PlayStation, Wii or Nintendo DS).
Calculate it's value by answering a few quick questions.
Accept the offer (my black 4 GB nano was worth $43, and even more if I included the headphones and power adapters, which won't fit the new nanos anyway).
Ship your item to Beyond the Pod. They'll send your check as soon as they receive your iPod, so you don't even have to wait for them to turn around and sell it.
It's completely free to get a quote of your gadget's value, and there's no obligation to accept their offer either. Pretty straight forward if you ask me.
Click here to find out how much your iPod is worth.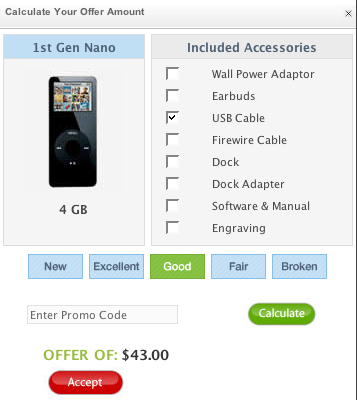 Selling your old iPod, Zune, or XBox will give you more money to put towards your new gadge, and you'll feel good knowing you've put your old unit to good use by recycling it and letting someone else buy it at a discounted rate.
Here's the complete list of items you can trade-in for cash at Beyond The Pod:
Apple iPod Touch

* 1st Generation iPod Touch (8GB, 16GB)

Apple iPod

* 4th Generation iPod Click Wheel (20GB, 40GB)
* 5th Generation iPod with Video (30GB, 60GB in Black and White)
* 5th Generation v2 with Video (30GB and 80GB in Black, White, and U2)
* iPod Photo (20GB, 30GB, 40GB, 60GB)
* U2 Special Edition iPod (20GB, 30GB, 40GB, 60GB)
* iPod Classic (80GB, 160GB)

Apple iPod Mini

* 1st Generation 4GB in Pink, Blue, Silver, Green, and Gold
* 2nd Generation 4GB or 6GB in Pink, Blue, Silver, and Green

iPod Nano

* 1st Generation 1GB, 2GB, 4 GB in Black and White
* 2nd Generation 2GB, 4GB, or 8GB in Black, Silver, Pink, Blue, Green, and Red
* Nano with Video (4GB, 8GB)

Microsoft Zune

* 30GB in White, Brown, Black, Pink, Red, and Orange.

Microsoft XBOX

* XBOX 360 Core
* XBOX 360 Premium
* XBOX 360 Elite

Nintendo Game Consoles

* Wii
* DS Lite

SonyPlaystations

* Playstation 3: 20GB
* Playstation 3:60GB