Today my wife was searching on Google for the Boo poem, so she could "Boo" one of our neighbors for Halloween (the annual tradition where you leave an anonymous "Boo" note along with candy on your friend's or neighbor's doorstep).
One of the search results on the first google page was for a site offering a Halloween Boo Poem.

BE WARNED: the page shown above should NOT be visited. It contains a malware script that displays a screen indicating your system has been infected with several well-known malware infections and viruses, and asks you if you want to "Remove All" by clicking a button on the screen.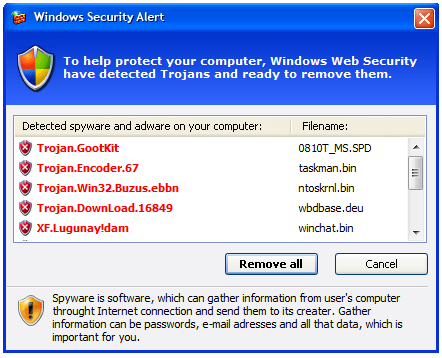 If you click the "Remove All" button you are giving the site permission to install it's malware program on your system, which will install the very viruses it was claiming to protect you from - and then of course will ask you for money to fix them!!
Fortunately my wife was smart enough to not click this button (good job Honey!), and called me over to ask what to do. I installed PC Tools right away - this was a brand new computer and I hadn't taken time to install it after we purchased the computer last week - and avoided the malicious attack that could have wreaked havoc on our computer.
What to do if your system has already been infected:
If you already fell for this scam (which is easy to do because they make the warning screen look very similar to a typical Windows security warning), you can fix it with PC Tools Internet Security by taking the following steps:
1. You'll most likely need to restart your computer in Safe Mode if it's already been infected, which is a mode where no programs are allowed to run except the services absolutely required by Windows to run (which excludes any viruses that have infected your system).
This is usually necessary because the malware program itself will refuse to let you install PC Tools or any other program. That's how the malware creators make their money - by scamming you into forking over money to fix the infections that they installed. Don't fall for it!
To restart in Safe Mode, turn off your computer and hold the F8 button down when it restarts. You'll be prompted to start in Safe Mode, and choose the option to start in "Safe Mode with networking" so you can download PC Tools when your system restarts.
2. Once you've started your system in safe mode, download and install a copy of PC Tools Internet Security, which will let you run a free scan.
PC Tools will show you all the infections on your system, before you register it, so there's nothing upfront you have to pay. It's like going to the doctor and getting a free X-Ray to see if your arm is broken, and only having to pay if you decide to get a cast.
3. Register your copy of PC Tools Internet Security? to fix the infections it finds.
Unfortunately, there are absolutely no free ways around fixing your computer (aside from wiping it clean and reinstalling Windows - but that's not really free because you'll lose all of your date along with a day's worth of precious time).
At least with PC Tools you are guaranteed to be installing trustworthy, award-winning protection that comes with a license that's good for up to 3 computers.
4. Restart your computer after PC Tools has finished scanning and removing the malware and viruses it finds.
PC Tools has a built-in IntelliGuard system that constantly monitors all activity on your system. This prevents infections from getting installed on your system in the future.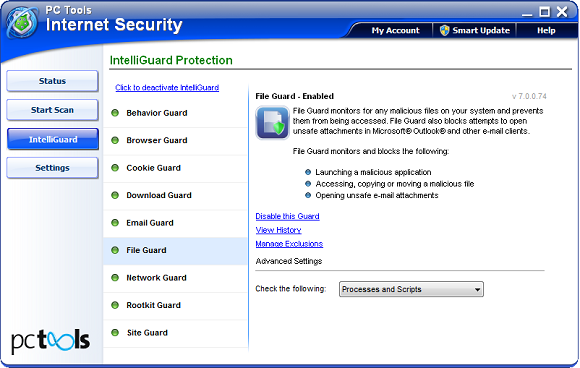 To test this protection, after installing PC Tools I visited the same page my wife had visited. Sure enough, PC Tools recognized the threat and asked me if I wanted to block this page in the future.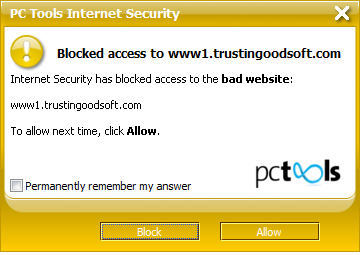 That's the kind of protection you need on your system - to make sure malware, viruses, and spyware are automatically blocked from installing on your system and making it completely unusable.
PC Tools also keeps an ongoing list of the latest malware threats and infections they've found, including the more recent SecurityTools and other malicious malware: http://www.pctools.com/mrc/