In Part 1 of this series, I walked through creating the deck foundation - a very important step because hot tubs are extremely heavy and you want to be sure your deck is solid so that it fully supports the hot tube and doesn't creak when you walk on it.
Part 2: Installing Cedar Boards for the Hot Tub deck
With the foundation completed, it's time to lay down the deck boards. You'll spend the bulk of your money on this part, because deck boards are quite spendy - especially if you choose cedar. Each 10-ft long cedar board was $24 at Home Depot. I used 25 boards, which ended up costing several hundred dollars. 
I chose cedar because I wanted something both strong and visually appealing. The plastic deck boards are strong too, but they look like... well... plastic. I also love the smell of cedar, and felt it was a worthwhile investment.
As with the deck foundation, it helped a lot to lay the boards out before starting to screw them in place (and I ended up making another trip back to Home Depot for 2 more boards to propery fill the space).
For spacing, I used a quarter inch pencil as a guide. This allows plenty of room for leaves and debris to fall through the cracks, and also for water to evaporate underneath.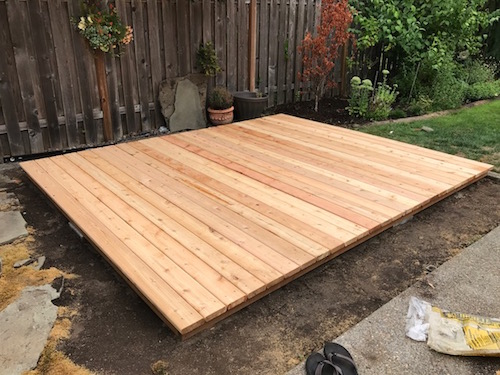 I used 2-inch deck screws to fasten the boards along the horizontal foundational pieces underneath.
I ended up buying a pack of 10 drill bits, because they stripped out so easily, and I also fastened only one screw on the far sides of each deck board first, all the way from one side to the other. This "tacking" approach ensured that I had the spacing right, before I went back and screwed in the remaining screws.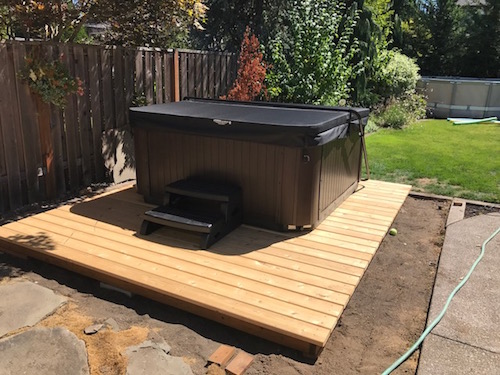 Total cost for the entire project was around $800, which was about twice what I had budgeted for... but hopefully you'll be able to avoid that mistake by planning ahead a little better after reading this tutorial.
As for the tub itself, my wife and I shopped around a lot in the Portland area, but couldn't beat the price and value we found from Dave at Spas of Oregon.
It makes a lot of sense to buy local from someone we trusted. Dave was the first sales guy we talked to and he encouraged us to shop around because he was confident we wouldn't find a better deal. Turned out he was 100% right, and we're very happy with our new hot tub that we got at a great price.
The other advantage of buying local is when the tub needs to be serviced. One of our jets has an adjustable neck pillow that allows you to get the position just right, and it ended up needing to be replaced. Dave sent someone out right away and the new part is already on order - at no cost to us for the service call or the part.
That's the kind of service you absolutely want to have, and you'll be in good hands with Spas of Oregon.