Last year I trashed on Norton because it failed to protect my home computers from Malware Alarm, and instead gave props to Panda Antivirus.
A rep from Norton reached out to me a couple weeks ago, and asked if I'd give them a second chance with their new flagship program Norton 360. He said they'd greatly improved their focus on virus protection, and was confident that they'd addressed the issues I raised in my earlier review.
I'm all about second chances, so I downloaded and installed Norton 360 on both of my home computers - one that's used primarily by my kids upstairs for games, and my wife's laptop that she uses for email, shopping online, and of course Facebook. My Panda subscription had expired, so these machines had been running unprotected for a while. I was getting some windows error popups every time I started the kids computers - indicating that a file or memory address could not be accessed, and who knows what else had snuck onto those machines while browsing the web and playing online games (my kids tend to just click "Ok" whenever they see popups, a habit I'm trying to get them to stop).
After installing Norton, which includes a license for up to 3 computers, I ran a full scan to check for viruses, spyware, tracking cookies, malware - the works.
It turned out I had 4 trojan horse viruses lurking on my system, which Norton was able to detect and delete. Trojans are dangerous viruses that work secretly in the background to download and run fraudulent security tools, keyloggers, adware, web browser toolbars and other malicious applications.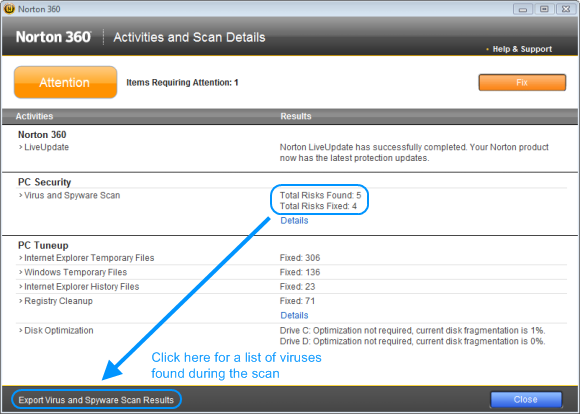 Norton shows a scan results summary screen when it's finished, that in my case indicated it found several threats. When I clicked on the "Details" link below the threat count (shown in the top blue call-out above) it showed me another dialog that I thought would list out the threats, but instead only told me it had found and fixed threats, but no details. It wasn't until I clicked the link in the lower left that it showed me detailed information about the threats it found.
Here are the trojans that Norton found and removed, along with the files that were affected. All of these came from zip files included in email messages.
Trojan.Bredolab
Risk: High (High Stealth, High Removal, High Performance, High Privacy)
[ups_filemn87123912.exe]

Trojan Horse
Risk: High (High Stealth, High Removal, High Performance, High Privacy)
[upstracking_ds9961201.exe]

Trojan Horse
Risk: High (High Stealth, High Removal, High Performance, High Privacy)
[worldpay_nr9712.exe]

Backdoor.Trojan
Risk: High (High Stealth, High Removal, High Performance, High Privacy)
[dhl_doc.exe]
The Norton scan also included a registry cleanup, a disk defragmentation, and a system backup. It found over 70 corrupted registry entries that were pointing to files that no longer existed, along with hundreds of spyware tracking cookies.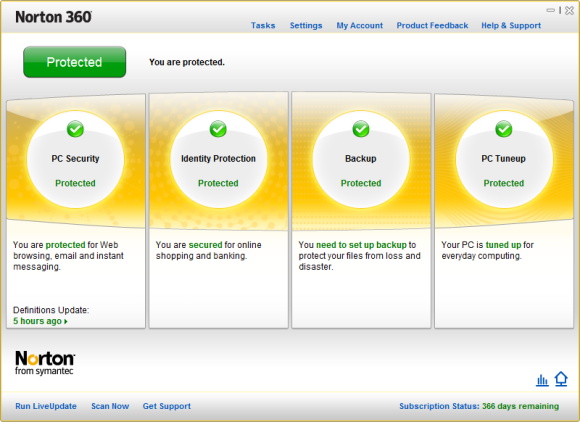 This new version of Norton 360 seems to be on par with the version of Panda I had previously reviewed (and is even better with the system tune up features) although it doesn't included the web content filtering that Panda has.

Norton also has an antivirus program for Macintosh systems, which Panda doesn't have.