I recently took a road trip from Portland to Seattle and needed to keep my laptop and wifi access point charged along the way, so I could finish up some work while my wife drove.
I found a DC to AC power inverter shaped like a coffee mug that slips easily into my car's cup holder. It comes with an adapter that plugs into the cigarette lighter, and has a regular 3-prong grounded outlet along with a USB port for charging other devices.
This compact device cost me $25 and did a decent job of keeping me charged on the 4 hour road trip.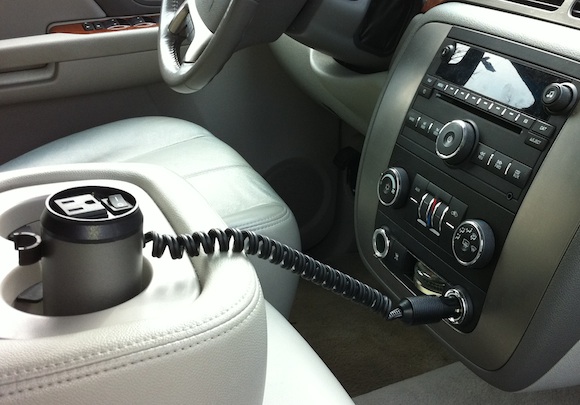 There were a couple of surprises though. It has a built-in cooling fan, which I learned is a little noisy. Not loud enough to be heard over freeway driving speeds, but was noticeable when we turned off the car during rest stops.
The unit would also shut off occasionally, as if recovering from it's labors and waiting for a breather. Maybe because it was overheating?
Laptops and other devices run on 120V AC electrical power from a home or office outlet, whereas output from an automobile cigarette lighter is 12V DC power. It takes a power inverter to convert the DC power to AC power. 
You can buy different versions of power capacities for DC to AC inverters, with the lowest being in the 100 - 150 watt range like the one I bought. If you need more power then check out this Power Bright PW400
that pumps out up to 400W and includes 2 electrical outlets.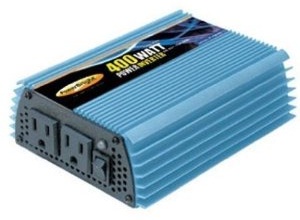 Or this Cobra CPI 880 that cranks out 800W!
Of course, the more power you need to convert, the more heat that's generated and the more drain you'll be putting on your car's electrical system. Fortunately, all of these units come with a built-in surge protector and fuse to make sure you don't drain more power than your vehicle can handle.