My home computer systems were both recently infected by the MalwareAlarm program, and I captured screen shots as it attacked my system - to show you the kind of grief this program can inflict, and also to demonstrate how to clean your system of malware, spyware, and adware.
By the time you finish reading this, you should be able to easily recognize when malware has attacked your system, and will know how to remove it and other threats from your computer.
Here's my story:
I do a lot of blogging and writing articles for this web site, and I was almost finished with one particular article after spending about an hour tweaking it to my liking. Little did I know at the time that I would soon lose all that work, and would find myself in a serious battle to regain control of my system.
I pressed the Submit button on my post, and all hell broke loose!
First I got a popup notification window in Internet Explorer (even though I have popups disabled), asking me if I wanted to download MalwareAlarm for free, to check if my system has been infected with Viruses, Adware or Spyware.
Of course I clicked "Cancel", but it turns out that it's MalwareAlarm that I've been infected with (well, my computer that is, although I have a sinking feeling that I'm not going to feel so good in the next few minutes). Sure enough, it ignored my Cancel request and immediately displayed a page with progress meters flashing, and my hard drive started humming wildly.
I frantically tried to close the browser but received a message claiming that my system was still infected:
The messages kept popping up after visiting a couple of different web pages as well, so I knew at that point that my system was definitely infected. I have Norton Antivirus installed, but this malware attack breezed right by Norton.
Let's see what can be learned from this nasty experience, and hopefully avoid it in the future.
To take action against this attack, I ran Spyware Doctor
to check my system for malware, spyware and adware infections. I have used Spyware Doctor before (in fact I discussed it in a previous post), but for some reason I had uninstalled it a while back.
After running a scan of my system, Spyware Doctor found over 300 adware, spyware, and malware threats. But more importantly, it found the MalwareAlarm infection which is also called SpywareNo.
Here's a link to download Spyware Doctor which will scan your system for free and give you a list of all the infections on your system. You might be surprised at how many spyware and malware programs are installed on your system without your knowledge - many of them are programmed to install and remain dormant for a while before rearing their ugly heads.
One thing I like about Spyware Doctor is that it lists the threat level of each infection and a good description of what it can do to your system. In the case of MalwareAlarm, it's described as "a rouge malware application with false positives, stealth installs and constant pop-ups informing the use to buy the application." That's exactly what happened in my case, and I'll be glad to remove it from my system.
I ran Spyware Doctor's cleanup feature and breathed a big sigh of relief after receiving confirmation that MalwareAlarm had been removed from my system.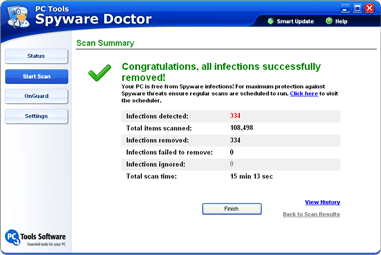 Fortunately there was a happy ending to this story, and as I closed Spyware Doctor it reminded me that it will continue to watch for threats that might try again to invade my system.
I highly recommend Spyware Doctor to protect your PC against malware, spyware, and trojans like it does with mine.
Here's a link to get Spyware Doctor for a free scan of your system.