I recently downgraded from Vista back to XP for performance and stability reasons, but forgot that XP doesn't have the Windows Photo Gallery that I had grown to love on Vista (that made it easy to import pictures from an SD digital camera memory card).
You can still import pictures in Windows XP using the built-in Scanner and Camera wizard, and can view them using the Windows Picture and Fax Viewer - both free utilities that ship with Windows XP.
Here's how you can import digital camera photos in Windows XP:
1. Remove the SD memory card from your digital camera and plug it into your computer's memory card reader slot, or plug the data cable that came with your camera into your computer's USB port.
Windows XP will recognize the new card or data cable and will ask you what you'd like to do:
If you don't have a memory card reader built into your system, you can buy an adapter from Amazon for about $10 (including a 4 GB SanDisk memory card).
2. Choose the option to "Copy pictures to a folder on my computer using Microsoft Scanner and Camera Wizard".
3. Enter a name for the pictures, which will tell Windows what folder to create in your My Pictures folder:
You can also choose whether you'd like to delete the pictures from your memory card when you've finished importing them.
4. Copy the pictures by clicking Next on the camera wizard screen to start the import.
5. Preview the pictures using Windows Picture and Fax Viewer.
Just open your My Pictures folder, which is located in Windows Explorer in your My Documents folder. Select the pictures you'd like to view by holding down the Ctrl key or the Shift key to select multiple pictures.
Then right-click on one of the selected pictures and choose "Preview" from the popup menu.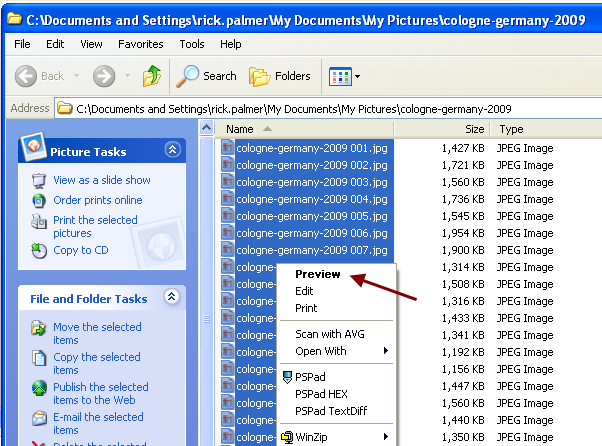 Windows will open them in the Picture and Fax Viewer and you can use the left/right arrow keys on your keyboard to loop through them each of them.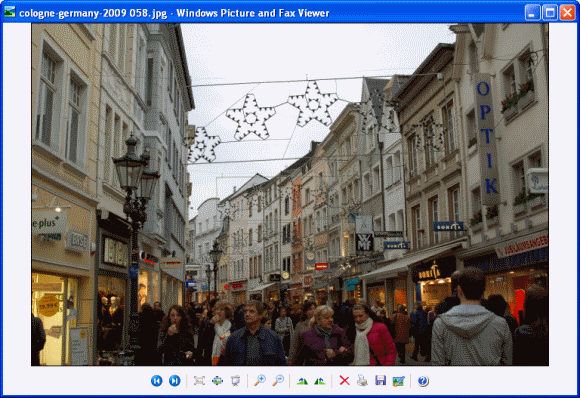 Once you've finished importing the pictures, you can remove your SD Memory card and put it back in your camera.