A few days ago my wife complained to me that her Facebook page looked different and she didn't like it at all. She asked me if I could figure out how to get the old one back.
I assumed she had probably accidentally clicked something to agree to let Facebook use her as a guinea pig, but I couldn't figure out how to get her old Facebook back. Mine was still the old one too.
Well, that all changed this morning, when I logged into Facebook like millions of other users and discovered that I've been switched over to the new Facebook too.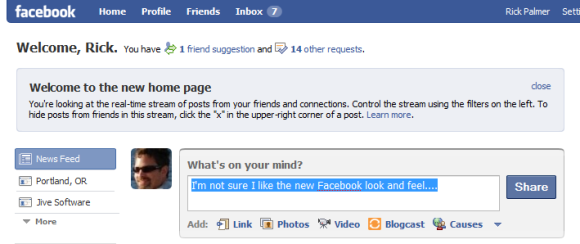 I'm not sure if I like it yet or not. All I see so far are rounded corners on user avatars, and have read lots of complaints about bugs and scripting errors. There are even Facebook groups that are being created by users who think the new look just plain sucks.
Oh, and the question has changed to "What's on your mind?", and "What are your thoughts?" (I've seen both today, so I think they're testing each one to see what users feel about it).
Is that what this has turned into? What we're thinking about?
I like the good ole' "What are you doing?" much better. It feels a lot less touchy-feely. And to me it's a better subject to learn what my friends have been up to, which keeps me connected. I learn their thoughts along the way, while they describe what they're doing, and that feels like a better starting point to me then jumping right into how we're feeling about things.
Many people just want things back to the way it was, which was awesome. Facebook membership has been growing extremely fast lately, and it's a great way to connect with old friends and stay connected with existing friends.
What do you think?
Do you want the old Facebook back, or do you like the new look and feel? What do you like about it?
Unfortunately, there's no way to switch it back once you've been assimilated, and I suspect the wave will hit this weekend and come Monday we'll all be looking at the same new Facebook. Like it or not.