Question: I have a few DVD movies that I'd like to copy for backup purposes, and would also like to view them on my laptop when I go on business trips. The software that came with my laptop isn't able to do it though - it says the DVDs are copy-protected. Is there an easy way to do this?
Answer: You'd think it would just be a simple matter of plugging the DVD into the DVD drive on your computer, and clicking a "Create Backup Copy" menu somewhere in Windows Explorer (or in the Finder for Mac users). It turns out however that copy-protection and encryption on commercial DVD movies have made it a lot harder than that.
Your operating system will not let you make backup copies of your favorite copy-protected commercial DVD movies without the help of third-party software programs. You'll also most likely need to find software made outside the United States. Thanks to some confusing legislation, and the fear of copyright law suits in the states, companies like Roxio, Nero, and others have removed the ability to copy commercial DVDs.
Is it legal?
If you're intentions are to copy your DVDs and sell them for profit, then you're clearly violating copyright laws and will be subject to fines or imprisonment if caught.
But what about making backup copies of your own DVDs that you paid for? I'm not a lawyer, so I recommend that you read the copyright laws for your country and decide for yourself what's legal and what's not. Personally I found them confusing at best, and conflicting with regards to fair usage laws that should allow me to protect my personal property by making backup copies of my own DVDs.
I'm a firm believer in the right to protect your own personal property. For DVDs that means being able to burn backup copies to your heart's content, provided they're for your own personal viewing (ie. you aren't selling them or using them to make a profit).
The search for a good DVD Ripper and Burner
I reviewed several DVD rippers (software that converts commercial DVDs to video format) and have listed my observations, starting with the programs from XiliSoft and AimerSoft that I liked the best.
Keep in mind that once you have ripped your DVD movies into video format, you'll have an MP4 video file on your computer that will also need to be burned to a DVD. Both Xilisoft and Aimersoft had ripping and burning programs, whereas the other companies I reviewed only had ripping programs.
All of the programs I reviewed convert DVD to AVI, DivX, XviD, VCD, WMV, MPEG4 format video files (the format used for iPods and iPhones). The program from Aimersoft supported the most file formats, with the option to create a 1:1 direct copy of the .vob DVD movie, and even an option to convert it to a YouTube video.
The trial version of each of them also lets you rip entire movies, but they'll have a watermark on the screen and you'll have to click "Later" on the registration nag screen that pops up (which is removed when you register).
AimerSoft DVD Ripper and DVD Creator for Windows and Macintosh:
- Very intuitive, user-friendly interface.
- Easy to use controls for editing or cropping movies, such as removing the black bar above and below a wide screen movie.
- Image capture button that takes still shots as fast as you can click, and automatically saves the images to a folder on your hard-drive so you can view or edit them.
- Real-time preview of movies while they're being ripped.
- Option to merge all titles into a single video file, which can then be burned back to a DVD to make a backup copy.
- Comes with two freebies: Free iPod Copy Manager for copying music and vidoe from your iPod to your computer, and a Free PSP Video Manager for copying music and video to your PSP.
- Registration: $35 (Windows version)
- Windows Links: AimerSoft DVD Ripper - AimerSoft DVD Creator
- Macintosh Links: AimerSoft DVD Ripper for Mac
Xilisoft DVD Ripper and DVD Creator for Windows and Macintosh: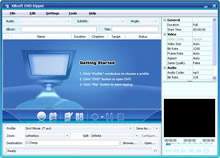 - Very similar user interface and features as the program from Aimersoft.
- Better image capture mechanism, where you can take still shots while the DVD is being ripped (very nice feature).
- Crop feature for removing the black bar above and below DVD movies.
- Rips DVDs by custom file size. You can compress movies to any size you need.
- Auto-splits output file to fit several CD-R discs (helpful if you don't have a DVD burner).
- Registration: $35 (Windows version)
- Windows Links: XiliSoft DVD Ripper - XiliSoft DVD Creator
- Macintosh Links: XiliSoft DVD Ripper for Mac - XiliSoft DVD Creator for Mac
dvdXsoft DVD Ripper for Windows only:
- Image capture feature.
- Real-time preview while DVD is being ripped.
- Crop feature for removing the black bar above and below DVD movies.
- Converts DVD music to MP3 audio, so you can listen to your favorite movies on your iPod.
- Adds an item to your shortcut menu that pops up whenever you insert a DVD, giving you a quick way to open dvdXsoft and automatically rip your DVD.
- Registration: $35
- Link: dvdXsoft Ripper
iSofter DVD Ripper for Windows only:
- No still shot feature for taking freeze frame shots.
- The movie preview controls aren't very intuitive (took me a while to figure out how to advance to the next chapter in the movie). I finally figured out that you have to stop the movie, and then advance to the next chapter, and then press Play again. Not as intuitive as I'm used to with my DVD remote control at home, but at least it works.
- Converts to "almost the same quality" as your original DVD, according to their website, but at only 10% the size. That might actually be a big plus if you're planning to rip your movies and watch them from your laptop on your next plane trip, because it would be hard to tell the difference in quality, and you could store a lot more movies on your hard drive.
- Registration: $39.95 (more expensive than other programs)
- Link: iSofter DVD Ripper
Which DVD ripper and burner did I choose?
Using the ripping programs from both Aimersoft and XiliSoft made it very easy to make copies of my DVD movies, and to burn them to a writable DVD for backup purposes.
However, Aimersoft wins my personal vote because in addition to having a great set of features and being super easy to use, it includes a free copy of iPod Copy Manager (uploads music from an iPod to iTunes) and also a free PSP Video Manager.
Here are the links for the Windows and Mac versions of Aimersoft DVD Ripper:
Aimersoft DVD Ripper for Windows: Download Trial :: Buy it Now
Aimersoft DVD Ripper for Mac: Download Trial :: Buy it Now