Bandwidth is the amount of data that can be downloaded from your website in a given month. Every time someone visits one of your web pages, they're downloading anywhere from 10KB to several megabytes of data depending on the content of your web page.
H
So how do you know if your web hosting account has enough bandwidth?
Back in the days of dial-up modems, bandwidth was expensive (and so was web hosting). I can remember paying $24.95 for a 100 MB of web traffic a month. Dial-up modems have been replaced by smoking fast broadband modems that can easily download 100 MB in just a few quick minutes. That means visitors to your website are able to download far more data than ever before.
Fortunately web hosting providers offer far more bandwidth than they did in those days, and for much less money. Take a look at my web hosting provider comparison and you'll see that even the worst provider on my Steer Clear List (GoDaddy
) offers 5 GB of monthly bandwidth, and for only $3.99 a month.
Webmaster Tip: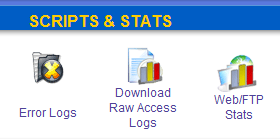 You can check your monthly bandwidth statistics to see how many people are visiting your web site. Visit your web hosting account Control Panel (cPanel) and select "Web/FTP Stats". You'll see a link for Bandwidth, which will give you the number of bytes transferred for each of your sites.
To help answer the question of how much bandwidth is enough for your site, let's look at a real life example. I run over 10 active websites on a single HostMonster
web hosting account. Here are my monthly bandwidth transfer stats for June, 2007 which add up to about 5 GB (as of the 25th). A few of these sites get over 200 unique visitors a day, which takes a lot more time and effort to generate than most people realize.
prosoftapps.com 3.57 Gig
online-etraining.com 494.54 Meg
dad-eblog.com 412.51 Meg
blogbelt.com 339.50 Meg
roadbikeaddicts.com 153.41 Meg
sellsharewareonline.com 97.11 Meg
restlesslimbs.com 86.03 Meg
myfamilyspaces.com 68.41 Meg
dog-eblog.com 32.35 Meg
online-ecoupons.com 30.17 Meg
GoDaddy's web hosting account clearly wouldn't cut it for me, but how many people will need this much bandwidth or will have this many websites? I suspect the average person will start out with a single web site and will do fine with an economy web hosting plan for the first year or two.
But let's say your website becomes successful much sooner than you anticipated. Maybe you've thought of an idea that's destined to become the next Digg.com or you're sure you have the real answer to Ask.com. Almost overnight your bandwidth requirements could become a major roadblock to your goals and dreams.
You know the old saying "You never know with the Internet..."
Take another look at the web hosting provider comparison page and look how much bandwidth the recommended web hosts are providing. Lunarpages
offers a whopping 3500 GB of monthly bandwidth, which is literally 700 times the bandwidth I'm currently using for all 10 of my active websites!
Monthly bandwidth is an important consideration when considering which web hosting provider to choose. However, with many web hosts offering far more bandwidth than most web sites could ever dream of needing, it no longer needs to be the deciding factor.
Instead, find out what kind of hardware your web host is using (CPU, memory, hard drive space/speed), how many other accounts are sharing the same server that your site is running on, and the extensibility of your account (the number of sites you'll be able to run on a single account). These factors will have a greater impact on your web site's performance than bandwidth, and will help ensure that your site holds up the next time it gets the vote on StumbleUpon or Plime.
I highly recommend HostMonster or Lunarpages if you're looking for top notch web hosting at an affordable price. I've worked directly with both of these companies for many years, and they'll provide you with the best value for your money when compared to other hosting services (free add-on domains, high bandwidth limits, numerous databases, and great technical support).