Question: I traveled a lot in 2009 and am wondering if my rewards miles and hotel points will carry over into 2010?
Answer: Yes and No - Redeemable miles roll over but miles that were accrued towards elite status do NOT roll over.
The miles you accrued for redeeming flight rewards will carry over into the next year, and your elite/preferred status will also be retained through 2010. So you'll be able to redeem miles for free tickets and will enjoy your flight status benefits throughout 2010.
However, you must earn enough elite qualifying miles on the program in 2010 to retain your preferred status into 2011 - and your elite point account balance will be reset to zero at the start of each new year.
So if you don't fly as much this year in 2010, then you'll lose your elite/preferred status for 2011.
Last year I racked up some decent frequent flier miles on the United Star Alliance program and also with Alaska Airlines (which includes Delta, and Northwest Airlines).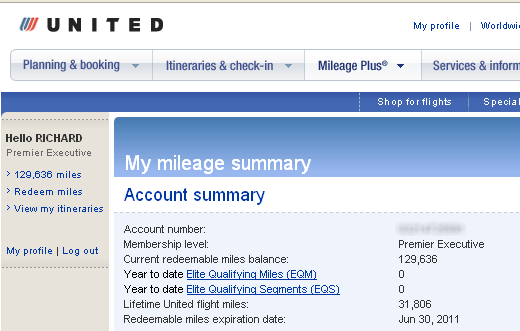 The elite qualifying miles I earned towards on United's mileage plan in 2009 were reset to zero miles on Jan 1st, 2010. Meaning I'll need to fly a full 50,000 miles to retain my Premier Executive status into 2011.
The same thing happened for Alaska, although it took a couple of weeks for the reset to happen (so initially I thought they were going to roll over the miles). That turned out to NOT be the case however, as you can see from the screen shot of my account balance showing that I'll need to fly a full 20,000 miles to retain my MVP status into 2011.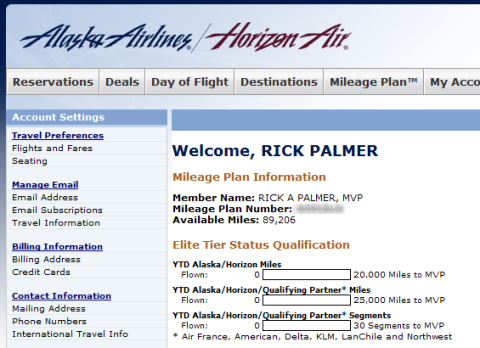 The status levels I earned in 2009 are retained throughout 2010 for both airlines, which means I'll continue to enjoy Premier Executive status on United flights and their partners (US Airways, Continental, Lufthansa, etc) and MVP status for Alaska and their partners.
But the clock started over at the start of this year, and I'll have to fly enough in 2010 to earn back the Premier Executive and MVP status levels, which will also ensure that I retain those levels into 2011.