It was so frustrating this year to pull our Christmas tree lights out of the box and find that 4 of them were only halfway working. FOUR!
What do they do in the box all year while they sit there, that would make them go bad? And why does only half the strand of lights not work, while the rest work just fine?
Chances are very high that you will run into this problem too, or already can remember going out and buying new lights last year because half of them seemed to be broken.
Well, to be 100% honest, it was my wife who solved this problem by bringing home a Light Keeper Pro for me to try on the lights. Sure enough, the first attempt on the first strand I tried (the one that was on our fully decorated tree) was fixed by this handy device.
How does it work? It turns out that one of the most common causes of light set failure is a malfunctioning bulb "shunt", that can be cleared by being zapped with a slight electrical pulse. I have no idea what a shunt is (I'm not an electrician) but the Light Keeper designers sure do, and it really does work.
Here's a video of me fixing a strand of lights using the Light Keeper:
Not all light strands have misbehaving shunts though - some just plain have bad bulbs, which is another thing the Light Keeper can check for. It has the ability to sense voltage through each bulb just by pointing it each bulb.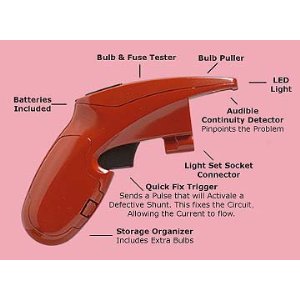 If the tester beeps, then the bulb has electricity flowing through it. If it doesn't beep, then the bulb is bad and needs to be replaced, which was the problem for the second strand of lights I fixed. Two down and 2 more to go, and that's 4 strands that I won't have to toss in the garbage can.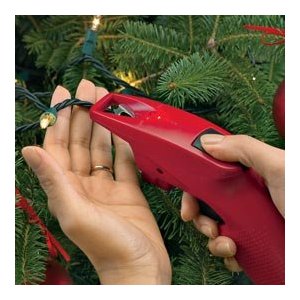 So go order a Light Keeper, save money by not having to buy new tree lights... and impress your family with your new secret weapon year after year!