Question: Is there a way to download YouTube videos and save them to my computer, so I can view them even when I'm not connected to the Internet?
Answer: Yes, you can download YouTube videos to your computer, and there's even a free, open source utility that'll do it for you (along with converting it to various video file formats, like mp4 for your iPod/iPhone, and 3gp for your cell phone).
Download a YouTube video to your computer:
Download and install the YouTube Downloader from http://youtubedownload.altervista.org/ (open source freebie that works great).
Copy the YouTube video URL from http://www.youtube.com. The URL is the address you entered in your browser to view the video on YouTube: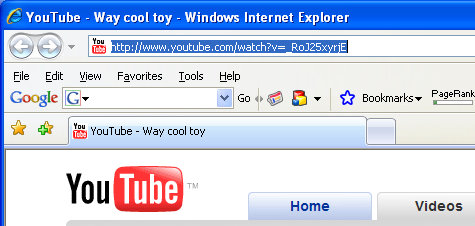 Enter the YouTube video URL into the YouTube Downloader.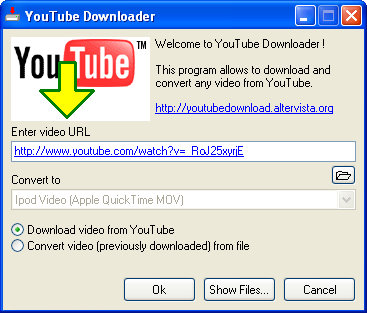 Click the "Ok" button in the YouTube Downloader and your video will be downloaded to your computer's desktop with an .flv file extension. You can also click the folder icon right below the "Enter video URL" field to specify a different download location, such as your My Documents folder.
View YouTube videos on your computer
In order to view YouTube videos (.flv files) on your computer, you'll need to download a YouTube video viewer, like the FLV Player from Applian (completely free btw).
Once you've installed the free FLV Player, you can double-click the .flv YouTube video file you downloaded, and you'll be able to view it on your computer:
It's easy to use, and you can view videos at 1x, 2x or even full screen.
Convert the YouTube video into MP4 format
You can also convert the .flv file into a format that will be viewable by Quicktime, Media Player, iTunes or similar video viewer.
Fortunately the YouTube Downloader will convert .flv files into .mp4 files that can be viewed in either of those movie viewer programs. Just click the "Convert video (previously downloaded) from file" option, and the "Enter video URL" field will change to "Select video file".
Enter the location of the YouTube video that you downloaded earlier, or click the "..." button to browse to a folder on your system. Select "iPod Format" in the "Convert to" dropdown, and press "Ok" to start the conversion.
You'll be prompted for the desired video quality, which can be adjusted lower to reduce file size, or set higher for better looking videos that will take up more space on your mobile device.
Once your video file has been converted, it will have a .mp4 file extension that can be viewed using iTunes, QuickTime, or Windows Media Player. You can also copy the .mp4 video file to your iPod or iPhone.
The YouTube Downloader is a nice tool to have, but it doesn't give you any video editing abilities. Let's say you want to do som advanced scene cropping and movie trimming, or maybe you'd like to join several video files into one single video.
That's where a tool like the Aimersoft Video Converter is really useful.
Aimersoft Video Converter supports all kinds of video formats including AVI, Divx, XviD, WMV, MPEG, MPG, FLV, DAT, RM, RMVB, MOV, ASF. It lets you change the video resolution, bitrate, framerate, aspect ratio, adjust the brightness, contrast, saturation, etc.
You can even save all these settings as your profile so you don't have to set them again for the next YouTube video conversion.
Ever wanted to extract the audio track from your favorite YouTube video and save it to MP3 or WMA format? How about making a ring tone from that sound track?
Those are all things that Aimersoft Video Converter handles with a few button clicks.
Here's a link to download the Aimersoft Video Converter and take it for a spin.