My son is a die-hard minecraft addict, who starts playing Minecraft every weekend morning at 7:00 a.m. He'd play Minecraft all day long, every day of the week, if I'd let him. But like most parents, I want my son to have a variety of interests, hobbies... and hopefully even some friendships with non-electronic real-live people.
Speaking of real-live people, I recently discovered that Minecraft has a built-in chat feature that lets everyone on a particular "server" communicate with each other in real-time. My son is only 11, and I'm not thrilled with the idea of anonymous adults chatting (and sometimes swearing) with my son... I decided that Minecraft would have to go, unless we figured out a way to disable the chat feature.
Fortunately we discovered an easy way to disable chat, while still allowing access to the command line for entering Minecraft commands!
To disable chat on Minecraft, follow these steps:
1. Log into Minecraft and click on "Options" on the main screen.
2. Click "Multiplayer Settings..." and then move all the sliders to the far left.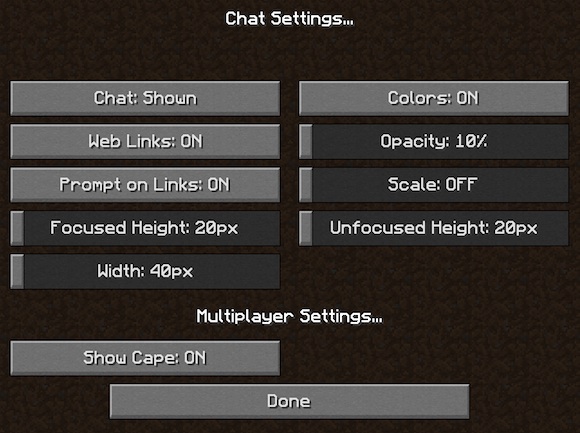 3. Click "Done" and you'll see the chat window completely disappear.
You'll still be able to use the command line to issue Minecraft commands, but the chat window won't be visible.