Both of my daughters were homecoming princesses this year, and my oldest daughter was crowned the official homecoming queen! It was a very exciting day and I had the privilege of escorting her along with my son who escorted his sister.
My wife and I took dozens of pictures of the event with our Nikon camera, and then imported the pictures onto her Windows laptop from the memory card. She chose the option to delete the photos after the transfer, which meant left all of the photos on her computer and nothing on the memory card.
Here's one of my favorite photos of the night :-) I wanted to have those photos on my Macbook Pro, but there are way too many to email back and forth, and I don't have any data cables.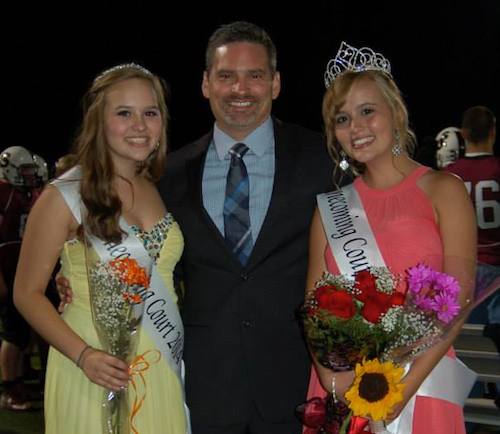 Fortunately I have a copy of Laplink Sync that let me copy all of the photos from my wife's Windows PC to my Mac in one shot, and over a wireless network connection (no cables required).
Here's how to transfer photos from a Windows PC to a Mac:
1. Download and install Laplink Sync to both computers.
With both computers connected to the same home wireless network (or any network for that matter) Laplink Sync will automatically find both computers.
2. Enter your security info.
Laplink lets you choose a username and password for each computer, to ensure that other computers on the network are not allowed to access your files.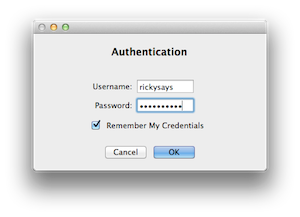 3. Choose what folders to transfer, and which direction.
You can choose to transfer Pictures, Music, Videos, and Documents. You can also choose which picture folders to transfer, or can transfer all of them together.
In my case, I wanted to transfer photos from Shelley's laptop to my Macbook, so I clicked the arrow in between those two folders until the arrow was pointing the right direction (it changes direction each time you click it).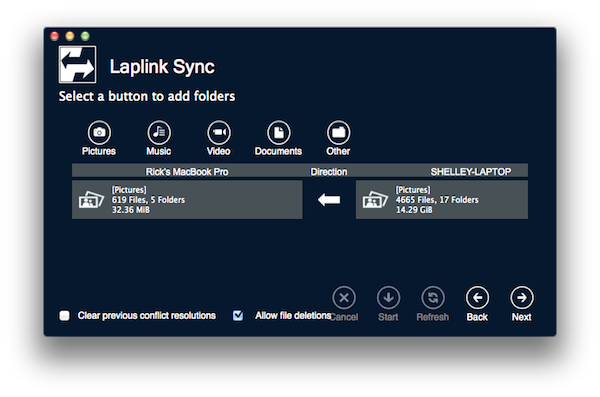 You can copy photos in either direction, from the Mac to the PC or from the PC to the Mac. The speed of your wireless network and the number of photos you have to transfer will determine how fast the files are copied over. 
Download a copy of Laplink Sync and please leave a comment below, letting others know how it worked for you.