Question: Do you have any software programs that you recommend - preferably free - for converting images and photos into other file format? I have some pictures that are in bitmap format (.bmp file extension) and I'd like to convert them to gif or jpg.
Answer: For Windows users, definitely check out the Paint.NET project.
Paint.NET is completely free and is way easier to use than Gimp or PhotoShop (in my opinion), yet has plenty of features to match these well-known programs. It's the only program I use anymore for photo editing, converting images to different formats, resizing images, cropping photos, etc.
To convert your pictures to a different format, simply open them in Paint.NET and then choose the File -- Save As menu to select a different file format: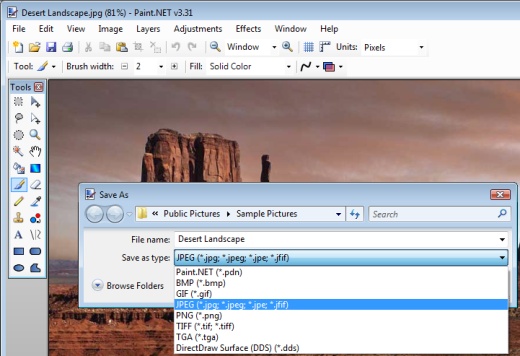 There are numerous other programs and tools for photo editing that are also worth looking at, such as those mentioned on this list from Michael Sigler's blog: Design resources for everyone (impressive list - nice work Michael).