The Motorola 376g (KRAZR) camera phone from Tracfone comes equipped with Bluetooth support for hands-free headset devices, letting you keep your hands on the steering wheel while you make calls or answer incoming calls.
To use a hands-free device with a Tracfone Motorola W376g, you'll need to connect (pair) your headset with your phone. Once they're paired, then the headset can be used to automatically answer calls.
Setting up the bluetooth headset
Make sure your headset is fully charged and the boom (the part that goes over your ear) is in the closed position. Shown below is the Motorola H350 bluetooth headset that connects nicely with the Motorola W376g phone and all other Motorola phones as well.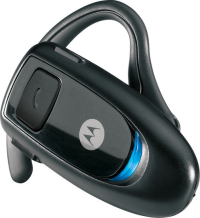 Press the connect button for about 3 seconds to put it in "Find Me" mode. The connect button is the same button you press to answer an incoming call, and is usually located on the front of the headset near the top.
Setting up the phone
Press the main menu button (round button between the up/down/left/right arrows) and then select Settings -- Bluetooth Link, which is on the second screen of the Settings option (ie. you'll have to scroll down a little to see it).
Select Audio Devices and then [Look for Device]
The Motorola 376g will find your bluetooth headset and auto-pair them together. This only needs to be done once, and then it will recognize the headset in the future automatically.
You'll only have about a 30 second time window to pair the phone with the headset, so make sure you time the steps above to happen at about the same time.
To test it out, put the headset on your ear and call your cell phone from a land line. Answer it from the bluetooth headset by pressing the phone/connect button (the same one you pressed earlier to put it in bluetooth pairing mode).