By far the most frequently asked question I get from people is "How do I transfer a photo from my computer to my cell phone? (or vice versa)".
Cell phone manufacturers often don't ship software with their phones that would do this for free, because they'd rather make money on transfer fees. Windows doesn't provide much help either.
For example, I bought a Motorola Razr v3 phone long ago and it only came with a user's manual and a charger. There was no software for transferring any files to my computer, and nothing built into Windows XP or Vista that even recognized my phone.
Here are a few ways to transfer photos or ring tones from your computer to your cell phone: 1. USB Data Cable 2. Bluetooth 3. Email 4. Text Message
If you have a smart phone... these aren't the droids you're looking for. If you don't have a smart phone (iphone, android, etc) then you might still find this article useful. 
Transfer with a USB data cable
You can transfer as many photos or ring tones as you like to your cell phone in one shot, using a USB Data Cable that connects your computer to your cell phone. Windows does not come with software to recognize your phone and handle the file transfer however, so you'll need a copy of DataPilot (or similar program) which works with all major phone types.
Fire up DataPilot and plug one end of the USB data cable into your phone and the other end into the USB port on your computer. DataPilot will display a list of the existing photos, ring tones, and videos on your cell phone.
Choose the folder on your PC that contains the files you want to move, select the files (or folders) and click the transfer button to copy them over to your cell phone. You can also copy the other way, and use DataPilot to transfer photos or ring tones from your cell phone to your computer, and they have a version of DataPilot for the Mac that works the same way.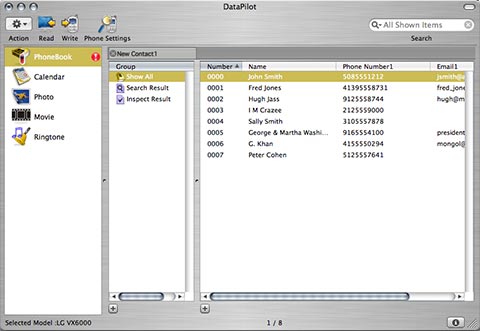 Transfer using a Bluetooth connection
You can also transfer photos, ring tones, and videos from your computer to your cell phone using a wireless Bluetooth connection.Bluetooth is built into most computer systems and has a 30-foot range.

If you have Bluetooth enabled on your system, you'll see a Bluetooth icon in the lower right side of your Windows task bar. You can also open your Control Panel from the Start button, and if you don't see a Bluetooth icon then you don't have Bluetooth on your system.
If your computer doesn't have Bluetooth built-in, you can get a Bluetooth adapter like this one, that plugs into one of your USB ports).
Most phones ship with Bluetooth disabled to save on battery life, so you'll first need to enable Bluetooth on your phone, and then pair it with your computer. I've covered Bluetooth pairing in another article titled How to Pair a Bluetooth Device with your Computer.
Once you've paired your Bluetooth phone with your computer, you can easily transfer files over the wireless Bluetooth connection.
Transfer using Email
Not all phones support email, but most people have smart phones (iPhone, Android, etc) that let you send and receive email. If that's the case then you can just send yourself an email with your photos attached, and that email will show up on your phone... download the attachments from the email on your phone, and you're good to go.
However, if you have a lot of files to transfer, these first two approaches can mean a lot of emails or text messages.
Transfer using Text Messaging
You can send a text message from your computer just by using the right email address, and attaching the photo or ring tone to the email message. For AT&T/Cingular customers the email address is your_number@cingularme.com.
For example, if your cell phone number is 691-548-1294 then you'd send an email to 6915481294@cingularme.com and it would arrive as a text message on your cell phone.
Once you receive the text message on your cell phone, you can view the photo or ring tone and save it as your wallpaper or in your phone's audio library.