I love my Comcast DVR because it lets me record all my favorite TV shows and then fast forward through all the obnoxious commercials. It has a limited amount of storage space however, so we're continually deciding between which shows will stay recorded and which shows will get deleted.
There have also been many times when I've wanted to save a show to my computer, or to make a DVD for friends to watch - such as the time my friend's son was interviewed on a fund raiser for MD that was hosted by one of our local news stations.
I was able to copy recorded shows from my Comcast DVR to my Windows XP computer fairly easily using a FireWire cable, a few software drivers, and a free video streaming program.
UPDATED May 23, 2016: If you're looking for a way to record shows to your Mac, check out this tutorial.
How to record shows from a Comcast DVR to a PC
1. Download software drivers and streaming video recorder.
You can download the necessary drivers and a free streaming video recorder called CapDVHS from this link (with many thanks to the AV Science Forum).
Unzip the drivers and CapDVHS recorder to a folder of your choice on your computer. You will use these in the next step after you connect your DVR to your PC. You'll also need a software program to view the recorded video file, and the free VLC Media Player handles this nicely.
2. Connect the DVR to your PC with a Firewire cable.
My Comcast DVR is a Motorola DCT6412 that supports dual channel high definition (HD) digital recording. There are 2 Firewire ports on the back side that let you connect to your PC using a standard IEEE-1394 FireWire cable.

You can buy a FireWire cable at your local Radio Shack for $39, or here on Amazon for about $15. Make sure your computer has a FireWire port, which will either be a small 4-pin port or the regular 6-pin port that looks the same as the port on the back of the DVR itself.
With your Comcast DVR and computer both running, connect the FireWire cables to both ends. I had to use the right-side port on the DVR since the port on the left side didn't work.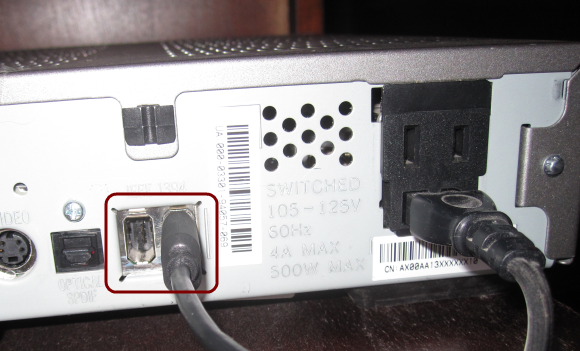 Windows will recognize the connection and will prompt you with it's built-in Hardware Connection wizard. Cancel the hardware connection wizard as we will need to install the drivers individually. You'll be prompted three times with the hardware connection wizard - cancel all three of them.
Next, open the Windows Device Manager by right-clicking on "My Computer" on the Windows Start menu, selecting "Properties" and then clicking the "Device Manager" button on the "Hardware" tab. Lots of clicks, but you'll get there :-)
In the Device Manager you'll see a "Other devices" section with a yellow question mark. Right-click on the first "AV/C Panel" entry and select "Update Driver".
The Windows Hardware Update Wizard will pop up again, and this time select the option to "Install from a list or specific location (Advanced)".
Click "Next" and then select the option to "Include this location in the search". Click the "Browse" button and navigate to the folder where you saved the software drivers back in Step 1.
Click "Next" and you'll be prompted to verify the installation, with a warning indicating that the driver has not passed the Windows Logo testing (which is harmless in this case).
Click "Continue Anyway" to install the driver, and then repeat these steps to install the drivers for the AV/C Tuner device (right-click on "AV/C Tuner" in the Device Manager, select "Update Driver", etc).
For the remaining "Unknown Device" in the Device Manager, you can just right-click and select "Disable" as we won't need this one. The end result should look like this in the Device Manager, with both devices installed under "Imaging Devices":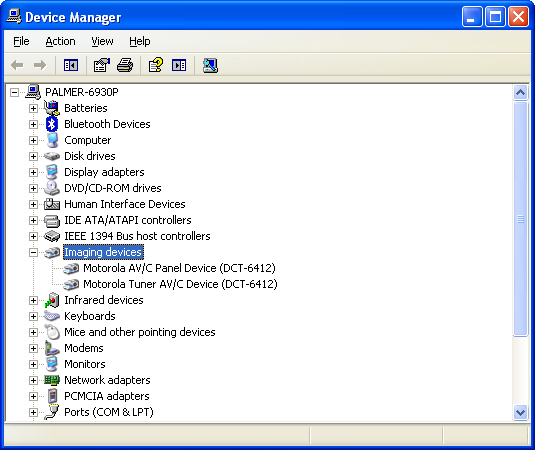 You're on the home stretch if you've made it this far, and are ready to start recording your Comcast DVR shows.
3. Record your shows.
Run the CapDVHS program that you downloaded in Step 1 above, and select the "Setting" tab to configure the location of saved video files. I also changed the output file extensions to .ts based on recommendations from the AVS Forum.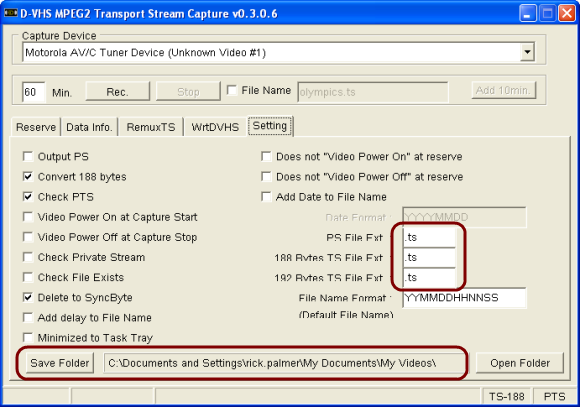 With your device drivers installed and your computer connected to your Comcast DVR with the FireWire cable, find the show you'd like to record using "My DVR" on your Comcast remote. Start the show and then click the "Rec" button in the CapDVHS program's "Data Info" tab to start the recording.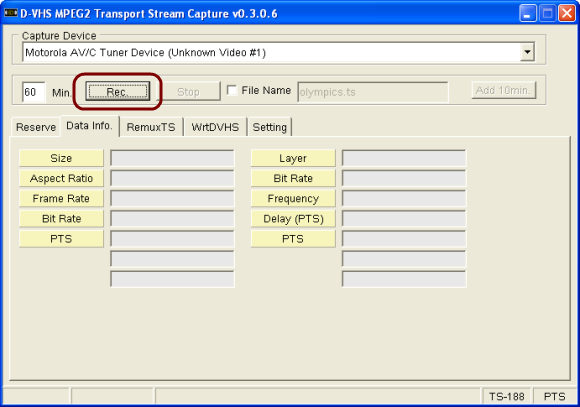 Make sure you have plenty of hard drive space available. I recorded a 5 minute clip of Apollo winning the Olympic bronze medal last night and it created 600,000 MB file. A full HDTV show will easily take up several GB of space, which is why the Comcast DVR's 120 GB hard drive can only store a limited number of HD shows.
Once you're finished recording, click the "Stop" button in CapDVHS and then open Windows Explorer to view the resulting .ts video file (using the location you defined on the "Setting" tab). You can double-click on the .ts file if you've already installed the VLC Media Player and you'll be able to view the recorded show on your computer.