Question: My iPod has totally stopped working. It won't charge when plugged into the computer and won't turn on at all. Could it be a battery issue? Thanks - Jean
Answer: Jean, you're not alone with the whole iPod freezing situation. I just bought my wife an iPod nano for Valentine's Day, and two days later it completely froze up. The kids had been playing with it, and I think they just got a little crazy with all the buttons.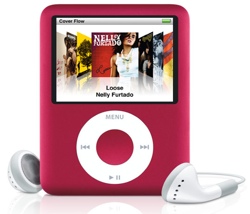 Resetting a Frozen iPod, iPhone, or iPad
The trick for resetting a frozen iPod or iPhone (yes, this works on iPads too) is to press the Menu and center button at the same time and hold them for about 6 seconds. 
You should see the Apple icon and your iPod should restart. Give that a try and let me know if it does the trick.
If it doesn't work, then I recommend taking your iPod into an Apple store where they can check if the battery is fried.