Hard drives start with a single "partition" that holds the operating system, your applications, games and all of your important data, music, photos and videos. You can split your hard drive into multiple partitions, which makes your hard drive appear to be more than one drive (C drive, D drive, E drive, etc).
It's still just one actual hard drive behind the scenes, but your computer will treat each partition as a separate hard drive. This makes it possible to create several file systems (either of the same type or different) on a single hard disk.
For example, I store all of my software programs like MS Office and Adobe Photoshop on my C: drive in a 100 GB partition, and all of my data files on a D: partition that's 200 GB. They appear in Windows Explorer as two separate hard drives, even though they're really both on the same 300 GB drive that has two partitions.
Partitioning your hard drive has many benefits, including:
Improving Performance 

Over time, your hard drive becomes very cluttered and messy. You can significantly improve your hard drive speed and organization by separating your operating system, applications and important data. This enables your hard drive to find files faster and easier. For instance, large hard drives with only one NTFS file system typically have a very large Master File Table (MFT), and it generally takes more time to read this MFT than the MFTs of hard drives with multiple partitions (because each partition has fewer files).
 

Protecting Files 

Partitioning may be customized for better data protection in the case of a system crash. If one partition is damaged, none of the other partitioned file systems are affected, and the drive's data will still be salvageable. This makes it easier to recover a corrupted file system or failed operating system installation.
 

Organizing Files 

You can also improve the efficiency of your system by dedicating partitions to digital movie processing, photos, email mailboxes or browser cache.
 

Running Multiple Operating Systems 

Partitions allow users to have more than one operating system on a single computer. For example, you could install Linux, Mac OS X, Microsoft Windows onto different partitions of the same hard disk (so they don't conflict) and be able to start your system with the operating system of your choice.
Windows unfortunately does not provide any partitioning software or commands that let even advanced users manage partitions, unless you're starting from scratch with a new hard drive (or are willing to reformat your existing drive, which deletes all data from the drive). You'll need a third-party software program to create or remove partitions on existing systems, especially if you want to retain your existing data.
Here are a couple programs that make partitioning your hard drive a safe and easy task:
Partition Commander 10
(Editor's Choice Award - Computer Times) is one such program that safely organizes your hard drive into partitions so that your favorite applications, games and even your operating system run faster.
​Simply follow a few automated steps and you're done, and it works on all flavors of Windows including Vista. You may also have an existing set of partitions and wish to merge them all back into a single partition. Partition Commander lets you move unused disk space from one partition to another while still retaining the data on each partition - something that Windows can't do by itself. 
Acronis Disk Director
is another partition manager that earned 6 of 6 stars and a "Recommended Award" from PC Pro. Disk Director lets you partition new or existing systems, and also focuses on recovery of damaged partitions.
Automatically or manually merges, splits, resizes, copies, and moves partitions without losing data.
Installs different multi-boot systems for your children, your work and for software tests.
Backs up and restores critical hard drive sectors, and lets you edit the contents of hard disk sectors.
Recovers deleted or lost partitions.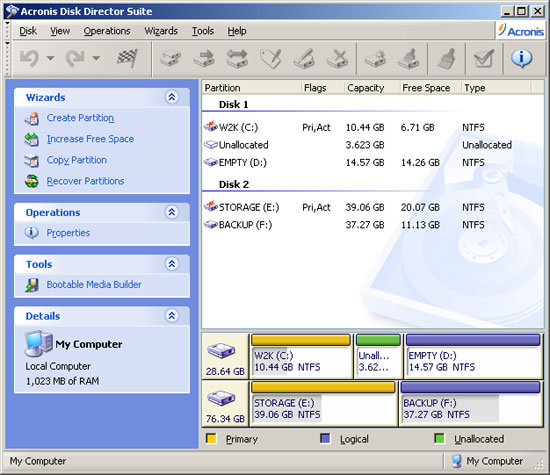 These third-party programs make it easy to partition your system or manage existing partitions, without losing data and without requiring a computer science degree to operate.
Whatever program you use to create or manage partitions on your system, be sure to make a backup of your important files before partitioning your system. That way if something goes wrong (such as accidentally deleting a partition containing your family photos or financial documents) you'll be able to restore your files and get your data back.