Question: How do I access files on my Samsung Instinct using a USB data cable, or how do I put ring tones on my phone that are on my computer. Also, what folder do i put them in, and what format should the ring tones be in?
Answer: Sprint provides a Media Manager program that lets you retrieve, manage, and synchronize your pictures, video and music between your PC and the Samsung Instinct. You'll be able to use Media Manager to transfer ring tones from your PC to your cell phone, and it will automatically put them in the right place.
You can also assign a different ring tone to each of your contacts, so you can give your significant other a special ring tone that lets you know who is calling even before you look at the caller ID (or you could know it's your boss and could send the call to voice mail before accidentally answering it).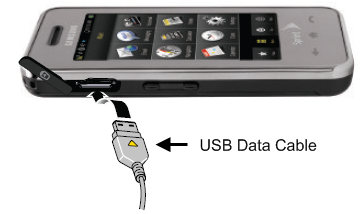 1.Update your phone's firmware
The latest version of Media Manager addresses an issue experienced with the inability to activate the application upon first time use. To take advantage of this fix in media manager, you must have the latest version of firmware installed on your Instinct.
You can check to ensure you have the latest firmware installed on your phone by going to Home >> Settings >> General >> Update Software. If you do not have the latest version, you will then be prompted with instructions to upgrade the firmware.
2. Download and install Sprint Media Manager
Once your firmware has been updated, then download the latest version of Sprint Media Manager from the download page:
http://www.nextel.com/en/software_downloads/phones/samsung_instinct.shtml
Note: you'll need to click "More Details" on this page to view the download link.
3. Connect your phone to your PC
Once you've installed and ran the Media Manager program, then you'll connect your USB data cable to the Instinct's USB port.
4. Transfer files from your PC to your phone
The software will automatically recognize your phone and you can use the "Add Media" menu to import pictures, ring tones, or videos from your computer to your phone.
Here's a link to the Samsung Instinct User's Guide where you can find similar instructions on page 66.
5. Assign ring tones to contacts
Once the music files have been transferred from your PC to your Instinct phone, you can assign them as ring tones to your contacts.
Press the Phone Functions menu (looks like a Phone, and is located on the bottom right of the Instinct's screen) and then touch Contacts.
Select a contact and then click the Edit icon (looks like a pencil).
Scroll the page and select the Set Ringer field. Scroll through the available ring tones until you find the one you want.
Touch Done to save your selection and make that the ring tone for the contact you were editing.