I recently started a new job in a downtown office that's right off the bus line. I decided to start commuting to save money on gas, since I live 18 miles away. I wanted a way to connect my laptop to the Internet so I could get some work done or catch up on email on the way.
I was able to connect my Macbook Pro laptop to the Internet using my Bluetooth-enabled Motorla RAZR cell phone as a modem. You should be able to get up and running with these instructions in about 15 minutes, and I'll explain how to do it with both Mac and PC/Windows laptops.
Here's what you'll need for a tethered laptop-cell-phone
Bluetooth-enabled cell phone (mine is a Motorola Razr V3, but a 3G phone is much faster when it comes to Internet data transfers)
Bluetooth-enabled laptop, or a laptop with a Bluetooth adapter.
Internet data plan or a dial-up Internet account.
1. Pair your Bluetooth phone with your laptop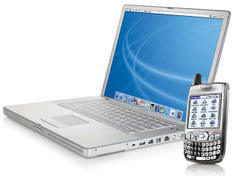 Configure your phone's BlueTooth settings to make it visible to your PC or Mac. On a Razr phone use the following menu options:
Settings --> Connection --> BlueTooth Link --> Setup --> Find Me
This will tell your Bluetooth phone to broadcast a Bluetooth signal to your laptop for about 60 seconds - plenty of time for your laptop to recognize the signal and "discover" the device. For Windows Vista on a PC laptop, follow these steps:
Click the Start button, click Control Panel, click Printers and Other Hardware, and then click Bluetooth Devices.
Click Add, and then follow the instructions.
For OS X on a Macbook, follow these steps:
Open Applications --> Utilities --> Bluetooth Setup Assistant.
Select the "Mobile Phone" device type.
Complete the pairing process.
Your laptop will now be paired with your Bluetooth-enabled phone, and will be able to use the phone as a wireless internet modem. Once paired, you won't have to go through the setup steps each time - it'll remember your device for future connections.
If you don't have a Bluetooth adapter, you can get one from Amazon for about $15.
2. Connect your laptop to the internet
Next you'll connect to the internet using your cell phone as a modem. Bluetooth has a 30-foot range, so you can leave your cell phone in your pocket (or laptop bag in my case) and never have to touch it.
You can use a program like Motorola Phonetools to handle the Internet connectivity, or you can try to set it up manually using the instructions below if you're fairly technical. For a PC running Windows Vista:
Click the Start icon and then select the "Connect To" menu. You'll see the "Connect to a network" screen where your phone should be listed. You can select "Dial-up and VPN" from the dropdown to only show your cell phone in the list.
Select your phone from the list, and click "Connect". You'll be prompted to enter your dial-up account user name, password, and phone number.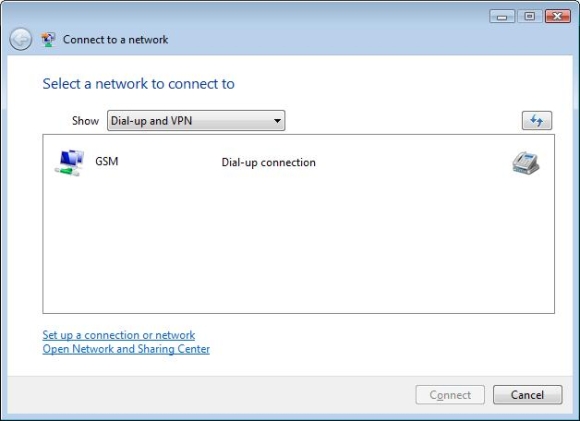 For a Mac running OS X: Getting my Bluetooth phone connected was a little harder on the Mac, and involved loading some customized modem scripts that I found from Ross Barkman's Home Page. The scripts I used were the Motorola GPRS Scripts, which I saved to the /Library/Modem Scripts folder. The scripts download contains detailed instructions in the Read Me.rtf file that's zipped up with the drivers - and they really work.
Set up PPP: A. Open Network Preferences B. Optional: Create a new location - call it "Mobile" . C. Select "Show: 'Bluetooth Modem Port'" D. Select the PPP tab and enter your network name in "Service Provider". E. Enter in "Telephone Number" - the APN for your network or "None" (without the quotes) F. Enter the Account name & Password (if required)
Set up the cell phone modem: A. Select the Bluetooth Modem tab in Network Preferences. B. Set 'Modem: "Motorola GPRS
Connect to the Internet: A. Open Internet Connect (in Applications) B. Select Bluetooth Modem Port (or the equivalent USB or IrDA port name) C. Click "Connect"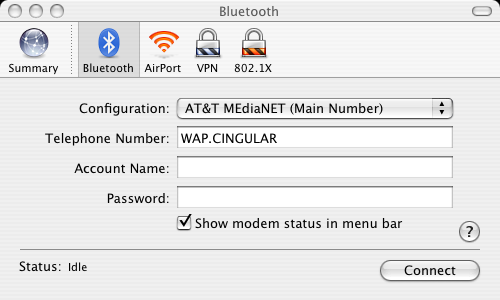 Please refer to the Read Me.rtf file contained in the zip file for more detailed instructions and some helpful trouble-shooting tips. If you're using the AT&T MediaNet account (a GPRS plan), then you'll enter WAP.CINGULAR for the phone number. Here's a comprehensive list of numbers to use for other GPRS internet service providers: http://home2.btconnect.com/Taniwha/gprs.html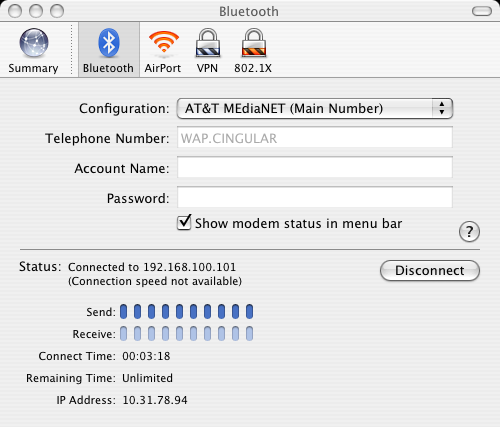 Once you connect to the internet using your Bluetooth cell phone, you'll be able to browse the web, chat, check email and do all the other things you do with a regular internet connection. Download speed won't be fast though unless you're using a 3G phone. Internet browsing speed with my Motorola RAZR phone reminded me of about a 28.8k dial-up modem, which was fine for websites containing more text than images - and certainly fine for IM. And it made the bus commute home much more enjoyable. If your phone is 3G-enabled, it will give you speeds similar to a DSL home network, which is much faster than a regular dial-up account.
For this reason, I eventually switched to using a Sierra Wireless AirCard 875u, which plugs into a USB port and provides blazing fast 3G broadband speeds. If you're a speed freak like me, then check out the article I wrote: Aircard 875u provides blazing fast connection speeds for your mobile laptop.
The Aircard makes me feel like I'm sitting in my office with a fast internet connection. I can download large files, and fly through web pages much faster than with a tethered cell phone connection. For the serious road warrior, the Aircard is the way to go.