Question: Can malware or spyware do any real harm to my computer, or is it all just a bunch of hype?
Answer: Yes, malware, spyware, and adware can wreak havoc on your computer - from capturing financial account information, using your computer to make expensive phone calls or send spam emails, keeping you from using your web browser due to obnoxious (and fake) security warning popups, and even placing hard core porn links on your desktop.
I used to naively think that malware was just a minor but harmless annoyance, or that spyware was limited to just reporting my online preferences much like a grocery card at Safeway. That was until my home computers became infected with MalwareAlarm and I was unable to use my web browsers altogether, due to the constant popups claiming I needed to send this company money to get rid of the security popups.
More recently I turned off my anti-spyware software for a couple of days to troubleshoot some performance issues, and my system was almost immediately infected with IEMonster and another nasty adware infection called zlob.PornAdvertiser (and not from visiting any questionable or adult-related websites either).
The results were definitely harmful to my system, and to my family members who use it. The zlob.PortAdvertiser adware infection literally placed links on my desktop to hardcore porn sites - and this is a computer that my kids often use to play Webkinz!
The IEMonster infection kept me from using the web browser altogether. Every time I tried to open the web browser, it would prompt me with a fake security warning claiming that my system was infected and I needed to buy their software to clean my system (which is a complete hoax, and merely a ploy to take my hard-earned money... all by the same company who created the infection in the first place).
The popup looks very similar to Window's built-in security warning, and it would be easy to fall for this trick except that I've seen the authentic Window's security screen and it doesn't recommend that you download "XP antivirus" or "Malware alarms".
Don't be fooled if you see fake warnings like this, and definitely do NOT download their recommended protection programs, or pay them any money. You'll lose your money and the problem won't go away.
What to do if your system has been infected:
If your computer becomes infected with IEMonster, zlob.PortAdvertiser, or other harmful programs, the first thing to do is downloaded a copy of Spyware Doctor and ran its free scan on your system.
Spyware Doctor will show you a list of all the infections that are currently lurking on your system, including spyware, malware, adware, trojans, worms, and tracking cookies. It will also indicate the threat level, from low to high, and will tell you the damage that each infection can cause on your system.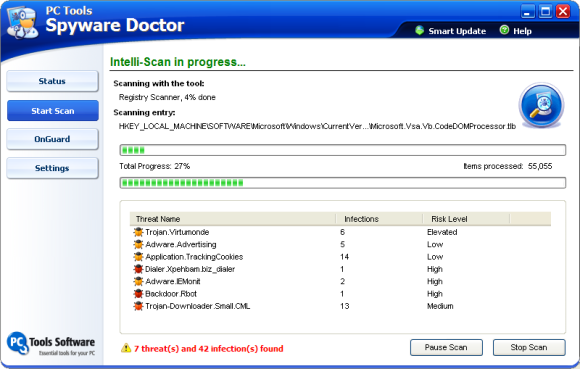 You might be surprised at how many harmful programs are installed on your system. I didn't realize until after running Spyware Doctor that several other spyware programs had infected my system, such as Backdoor.Rbot that runs in the background and allows full access to my system.
Spyware Doctor also found Dialer.Xpehbam.biz_dialer, which is a program that installs itself on your system and uses your modem to place calls to high-cost phone numbers.
After running Spyware Doctor's free scan, you can use it to immediately remove the problems from your system, which will get rid of the security threats and remove the annoying popups. You'll get your system back to normal and can turn on it's OnGuard technology that will automatically protect against future infections.