Question: I need to move some pictures from my phone to my PC. I have a usb cable, but I can't see the screen on my phone. AT&T sent me a new phone but need pictures off the old phone. Can you help me with this?
Answer: You can still transfer pictures from your cell phone to your computer if the screen is broken, by using your usb data cable and driver software to handle the transfer (which doesn't rely on your phone menus or screen).
The usb cable will connect your phone to your PC, and the driver software will show you a list of all the files on your phone. That includes photos, ring tones, contacts, and videos (if your phone plays videos).
Here's what you'll need to do:
1. Turn your cell phone on and connect it to your computer.
Any USB data cable that fits the standard USB port on your phone and your computer will work, so there's no need to go buy an expensive cable. It should also charge your phone while it's connected.
2. Start up the driver software that came with the USB cable.
If no software came with your USB data cable, then you'll need to purchase that separately, since Windows needs the right drivers in order to recognize your phone. One program I've tried is Data Pilot: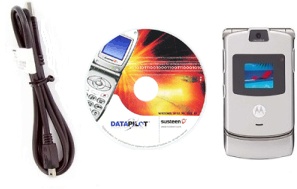 You can get a copy of Data Pilot for pretty cheap it works with all major phone types. It will show you a list of folders on your phone containing photos, music (ring tones), contacts, and videos (if your phone supports video).
Another program that works well is Motorola Phonetools, and it works the same way as Data Pilot (and can also be purchased for about $15 on Amazon).
3. Select the files you want, and transfer them to your computer.
When you're finished transferring pictures from your broken phone to your computer, then you can turn around and connect the usb cable to your new phone and transfer the files from your computer to the new phone.
Hope that helps!