With all the travel I've been doing lately, I splurged today on a pair of QuietComfort® 15 Acoustic Noise Cancelling® headphones
(over 180,000 miles this year and another 10,000 mile round trip to Germany next week).
These are the latest and greatest in sound control from Bose, and my first pair of noise canceling headphones. The other one I considered buying was the new digital headset from Sony, but after reading numerous reviews on Amazon I concluded that the Bose headphones had better overall noise reduction, quality, and battery life - and they were also $100 cheaper than the Sony's.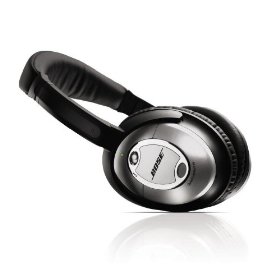 To properly test the noise reduction capabilities of these Bose headphones, I took them with me on my bus ride commute home. It was a 45 minute bus ride from downtown Portland, and I sat in the back right next to the noisy engine compartment.
Imagine a loud revving diesel engine, squeeky brakes, doors opening and closing - you get the picture. Plenty of noise.
The Bose QC 15 headphones are very comfortable with an around-ear design, and I didn't realize just how well they were doing until I turned them off and was hit with a blast of engine noise.
They also make music sound better because they filter out much of the external background noises, meaning you don't have to crank up the volume to hear deep bass and crisp treble.
They didn't do very well with jarring pot hole bumps though. They made a noticeable audio sound over the bigger bumps that sounded a lot like someone tapping a microphone - probably due to the microphones located both inside and outside the headphones that sense audio waves, to aid with sound reduction.
Even so, it was a much quieter ride with the Bose QC 15's and I was able to listen to music without nearly the noise levels I'm used to hearing with my earbuds.
When I got home, it started pouring rain outside, which made a great ambient noise reduction test. Rain is a fairly constant sound that the Bose headphones are able to accurately isolate - much different from revving, surging bus engine noises.
I noticed a typical 25-30% noise reduction just by putting the headphones over my ears, but was literally amazed when I reached up and turned them on - the rain noises were completely neutralized and it was pure silence. I could still hear voices, which represent audio spikes, but the constant, ambient noise was virtually eliminated.

I'm really looking forward to the ultimate test next week when I travel out to Germany for a business trip. The airplane engine noise is usually fairly constant mid-flight, and I'll report how the Bose headset does with airplane noise reduction.
In the meantime, if you have the money to spend on a high quality pair of noise reduction headphones for yourself or as a gift to that special someone, I highly recommend the Bose QuietComfort 15 Noise Cancelling Headphones.