Trying to decide between a Blackberry Curve and an Apple iPhone?
I recently compared the features of a Blackberry Curve with an Apple iPhone and ended up buying the new Blackberry Curve 8310 Titanium model. It has a nice balance between size and features: a full Qwerty keyboard, a bright display, 2.0 MP camera with built-in flash, expandable memory up to 4GB, and even GPS so I can use Google Mobile Maps to find where I'm at for free.
The iPhone also has some great features that have made it a very popular device, such as the built-in accelerometer that detects when you rotate iPhone from portrait to landscape, then automatically changes the contents of the display.
This lets you immediately see the entire width of a web page or a photo in its proper landscape aspect ratio.
I discovered 5 features that put the Curve a few steps ahead of the iPhone in my opinion. I'll cover those in a minute, but first I'll list a few must-have features that both devices supported.
Features that I absolutely had to have regardless of which phone I bought (but that weren't deciding factors because both phones had them):
1. Lots of memory. The iPhone actually wins in this category, with 8 GB and 16 GB memory capacity depending on the model. But the Curve lets you plug in a Micro SD card for up to 4 gigs of added memory - plenty in my case, and good for storing up to 1000 songs and pictures.
I found a 2 GB 3-in-1 microSD/miniSD/SD Kit at Wireless Emporium, that includes a MicroSD memory card and adapters that let it also be used in any SD memory slot (like the slot on my Nikon D50 DSLR camera).
The MicroSD card is inserted behind the battery on the Blackberry Curve. Just take the battery off, lift the memory slot cover, insert the MicroSD card, and snap the slot cover back in place. That's all there is to it, and here's where to find the memory slot:
2. Plays MP3 music and videos.
Both cell phones play mp3 music and video, and with the 4 GB expansion slot on the Curve I can play over a 1000 songs - plenty to let me keep my iPod at home and only use the Blackberry to play my tunes.
The Curve comes with a 3.5mm headphone jack and a pair of headphones that have a call-in button (just press the button when a call comes in, and you have an instant hands-free device that lets you answer the call without having to remove the headphones).
3. Email and web browsing. Both devices let you send and receive email, and have a built-in web browser.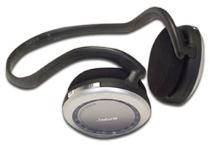 I installed Opera Mini for the Curve as well.
4. Bluetooth. I have a pair of Jabra bluetooth headphones (also from Wireless Emporium) that sound great and both the Blackberry Curve and iPhone support Bluetooth, so I'd be able to use them with either device.
Pairing and setting up the Jabra headphones with the Blackberry Curve was extremely easy, and I had them working in a matter of seconds. The sound is great, and I like not having to deal with any headphone wires.
Here are the 5 reasons why I chose a Blackberry Curve instead of an Apple iPhone:
1. Smaller Size:
Both devices are fairly small, with the iPhone being just 2.4 inches wide and 4.5 inches tall, but the Curve is almost a half inch shorter - which lets it slide in any out of pockets a little easier.
The Blackberry Curve also ships with an original Blackberry carrying case that protects the screen and looks very professional.
2. Qwerty Keyboard:
The iPhone has an advanced touch sensing technology and a popup keyboard that lets you type in email or text messages.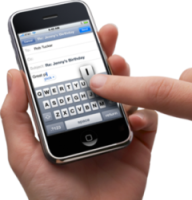 I found it a little hard to get used to though, because my fingertips are quite a bit wider than each keyboard letter entry, and the screen is completely flat so there's no physical indication that you're clicking the right key.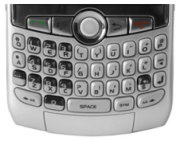 I prefer the direct physical sensory response of an actual button click that the Curve provides, with it's built-in full Qwerty keyboard. That way I always know if I'm clicking the right key.
I also like that the Blackberry keyboard is separate from the display, which means it doesn't take up screen real estate like the iPhone keyboard does.
3. Built-in GPS:
The Blackberry Curve 8310 model includes GPS technology that lets you pinpoint your location. You can pay a few extra dollars a month and sign up for the GPS plan, or just use Google's Mobile Map application for free, which gives you fairly decent positioning and both map and satellite views.
I like being able to zoom into my exact location and see the actual buildings and even trees in the area using the satellite view.
4. Better Camera with Flash and 5X Zoom:
Both the iPhone and the Curve come with a 2 megapixel camera, but the Curve's camera has an automatic flash built in, which makes pictures turn out much better than the iPhone. The curve's camera also has a 5x zoom, so you can get closer with your shots.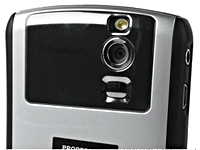 I actually use the camera pretty often for things like my kids soccer games, or taking snapshots of friends I'm having dinner with. It's also really nice to take a shot of a friend, and then attach that picture to their address book entry on my Blackberry.
With the Curve, it lets you assign a picture to any phone book entry, and even gives you a cropping window so you can zoom in on just the part you want to show. Once the picture has been assigned to a phone book entry, then that picture is displayed on the screen whenever that person calls... taking caller ID to the next level.
5. Much Lower Price:
With the iPhone running $399 and the Blackberry Curve costing only $99, it was an easy decision to go with the Curve. Apple really needs to bring their price down if they plan to remain competitive. That's a difference of $300, and I've even seen the Curve on Amazon for free with a $75 cash rebate, which makes it a no-brainer decision (for me anyway).