Hi Ricky, I need to find an electrician near me in the Beaverton, Oregon area. Who do you recommend?
Answer: There are several ways to find an electrician near you, including the familiar "word of mouth" approach, but that only works if you know someone who knows a good electrician... and sometimes you just need someone right away and can't wait for your friend to text you back, or for your Facebook friends to finally get around to replying.
There are a few companies who noticed this dilemma and created services to provide immediate quotes from reliable networks of local contractors. I've listed three of them below. Each one has it's own unique experience and is worth checking out because one size does not fit all when it comes to getting help from a handyman (or woman).
Porch
Slogan:  "We'll get the job done, or help you find a pro who can. From moving in, through the journey of your home, we are here for you anytime, every project, every step of the way.
Try it: Estimate Your Rate
Porch partners with LOWE'S as the primary way to connect homeowners and professionals in Lowe's stores. They have over 3 million contractors in their network and have handled over 130 million projects. They have a 100% satisfaction guarantee or your money back.
Contractors in the Porch network include about 50 types of services including painters, movers, plumbers, electricians, locksmiths, roofers, interior designers and many more.
Home Advisor
Slogan: "Find the right pro - right away. HomeAdvisor makes it easy to find local pros who specialize in exactly the type of work you need done. Just tell us a few details about your project and we'll match you to the best pro for the job."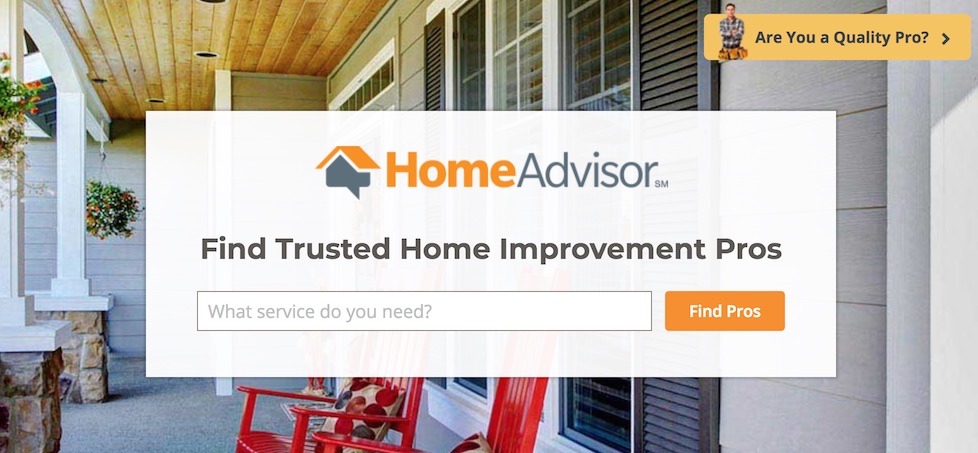 Try it: Find the right pro
With more than two million verified pro reviews and one of the industry's most comprehensive screening processes, HomeAdvisor gives you the peace of mind that comes from knowing you hired a pro you can trust.
HomeAdvisor's detailed True Cost Guides take the guesswork out of budgeting, so you can get local and national cost data for over 500 types of jobs and be better informed.
One feature that makes HomeAdvisor stand out is their visual designer, so you can see exactly what your kitchen remodel will look like, or your bathroom, or office, etc:
HomeAdvisor also offer financing - up to $35,000 with no equity required. You can check your rate in minutes without affecting your credit score.
Angie's List
Slogan: "Home is where our heart is. Verified reviews and ratings in hundreds of categories help you find the best companies to help you complete your projects."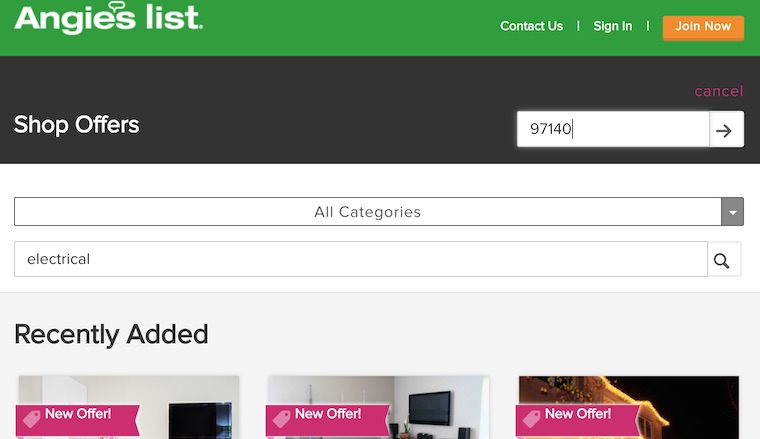 Try it: Easy 4-step process
Angie's List provides a lot of visibility into the reviews of each contractor and each project, which gives you a good sense of whether it's worth using a particular contractor or not. 
They now have a free membership level, in addition to two paid membership levels that give you better service - like a personal assistant, for example, that can match you with a highly-rated provider, book estimates if you want them, schedule your job and manage follow up communication - saving you the time-consuming work of hiring providers.
Ricky's Favorites
Each one of these services has something unique that makes it stand out from the others, so it really comes down to what's most important to you.
I love the built-in designer that HomeAdvisor provides, and the financing options that makes the larger projects easier to afford. 
Porch felt very intuitive and easy to use. I also like the integration that Porch has with Lowe's, but I find that most of the things I buy at Lowe's or Home Depot are for projects I think I can handle myself. 
I like the review-centric focus that Angie's List has, but I'm not a fan of their paid membership options. As a consumer, I'm looking for a service that doesn't add extra cost in order to get the best service... I'm paying enough already for the contractor!