Backups are one of those things that I keep meaning to do, and now that I'm traveling once or twice a month as an instructor, I decided recently that it was time to implement a solid backup plan.
Disaster Avoidance and Recovery
Imagine showing up to a class full of paying customers (or to your next important business client), opening your laptop and realizing that you've accidentally deleted the files you needed to use for your presentation. Or worse yet, imagine discovering the night before that your hard drive was fried and your system wouldn't start, or that it was stolen at the airport.
If I was in either of those situations, it'd be a complete disaster unless I had a way to reload my system with backup data. Even if I went out and bought a new laptop I'd still need a way to restore all my data and programs to to the way they were before I boarded the plane.
Backup Hardware
Affordability, Portability, and Reliability: My goal for a backup system was to find an affordable yet reliable combination of hardware and software to store my important data files on a portable hard drive, and be able to reload my entire system if necessary in less than an hour. My budget was $200, and in the end I came in at just under $190 with both hard drive and backup software.
My laptop's hard drive is 160GB, and most external USB hard drives are at least 250GB, so I knew size wasn't going to be an issue. I'd be able to backup my entire hard drive, in case I needed to do a full system restore. I'd also be able to backup individual files, in case I accidentally deleted certain files and needed to quickly get them back.
The Maxtor OneTouch 320GB external USB hard drive was on sale for just under $100, and came with it's own backup software (though I had been warned by my IT guys not to ever rely on any backup software that comes with a hard drive... more on that advice later, which turned out to be worth listening to).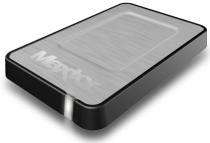 The Maxtor drive was also small enough to slide into my laptop case without taking up much more room than a box of Altoids (also helpful before meeting with clients).
Backup Software
I've used Genie Home Backup Manager for backing up my home systems, but my IT guys highly recommended Norton Ghost as "the industry standard". Since I was still well under my budget I decided to purchase a copy of Norton Ghost 14.0.
Before I opened it up though, I ran the Maxtor OneTouch backup program through it's paces (the one that came with the hard drive). I figured, if it worked fine then I'd just return Ghost.
Using a different laptop than my work laptop, I ran the OneTouch backup software and it finished backing up the entire hard drive without errors. The proof however was in the restore process, because a backup program is worthless if it isn't able to restore the data.
I plugged in the OneTouch backup software CD, restarted the laptop, and waited for the software to load. Not only was it not able to restore the backup data, the program wasn't even able to detect my hard drive!
Had I relied on the backup software that came with the Maxtor OneTouch hard drive, without testing it, I would have someday discovered my mistake but it would have been too late at that point to avoid a very embarrassing and costly situation.
Next, I opened the Norton Ghost package, installed the software, and went through the steps to backup my system. The steps were easier to follow and the backup took less than half an hour to complete.
Ghost also automatically set up an automatic backup schedule for both the files that I selected as well as an entire system backup. Perfect for me because I'm not in the habit of remembering to even take out the garbage, let alone run a system backup on a regular basis.
I went through the same steps to test the restore process, and everything worked as expected. Ghost detected my hard drive and was able to restore all of my files from the external usb hard drive in just under an hour.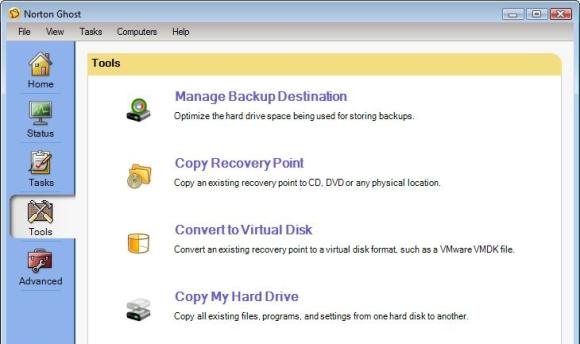 Ghost has some other useful tools as well, such as the ability to save your backup files to a virtual disk. This lets you restore to a VMWare VMDK file, which you could use to run multiple operating systems on a single computer (e.g. Windows on a Mac).
My IT guys were right, and I'm glad I took their advice about Norton Ghost (I'm lucky - I work with a seriously-top-notch group of geeks who really work hard to keep everyone happy on the hardware, software, and networking side of the house).
Before each trip, I plug in my Maxtor usb drive and kick off a backup with Ghost, and then tuck it away in my laptop case. Hopefully I'll never need to use it, but it's comforting to know that I'm protected by a tried-and-trued reliable backup system.
Here's a coupon code for 10% off Norton Ghost (code: 10NGHST08, exp. 10/31)