Follow these easy steps to quickly copy songs from a memory card or CD into iTunes, and then copy the tracks onto your iPod or iPhone:
1. Importing songs from your memory card or CD into iTunes
Insert the memory card into your media slot, or your music CD in your CD drive and wait while Windows recognizes the CD and asks you what action you'd like to perform.
Select "Import songs using iTunes" and click OK to start the import. Windows will automatically open iTunes and start the import, converting each music track into an mp3 file along the way. If the import does not start after iTunes opens up, then click the "Import CD" icon in the top right of your iTunes screen.
The import will take a few minutes, depending on the speed of your CD drive, and iTunes will show you the progress for each music track. When the import is finished, you'll see green checks next to each music track in iTunes.
2. Copying songs from iTunes to your iPod
Now that your music has been imported into iTunes, you're ready to copy the mp3 music files to your iPod.
Plug in your iPod to your computer and wait a few seconds while iTunes recognizes it. You'll see your iPod show up on the left-hand side of your iTunes screen.
Click "Library" in iTunes and select your newly imported music tracks. You can press the Shift key while clicking each track with your mouse, until they're all hightlighted.
You can drag them over to your iPod, on the left side of your iTunes window. Or you can select Copy from the Edit menu, click on your iPod and select Paste from the Edit menu.
iTunes will copy your selected music tracks over to your iPod. Once the transfer has completed, just right-click on your iPod and select "Eject" from the shortcut menu.
Unplug your iPod from your computer, and enjoy your new music.
Uploading photos, videos, and contacts
You can also upload your photos, videos and contacts by using a software program like iMacSoft (which also lets you copy text messages from your iPhone to your computer).
iMacSoft loads your iPhone as if it were an external hard drive, and gives you tools for managing literally everything on your iPhone. It comes in versions for both Mac and Windows.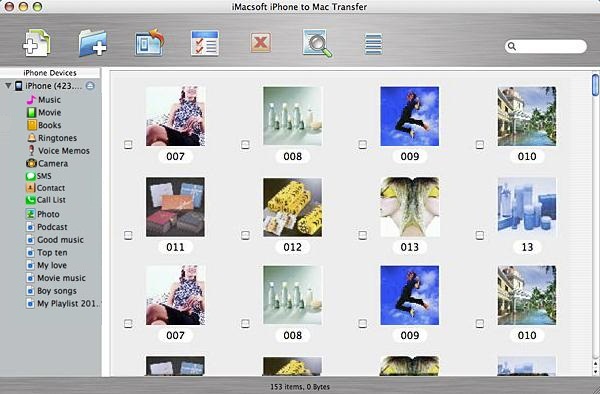 Take a look at the menu on the left side of each screenshot to get an idea of all the types of files iMacSoft can transfer between your iPhone and your Mac. It let's you transfer in either direction too, so you can upload songs and photos from your Mac to your iPhone, or download from your iPhone to your Mac.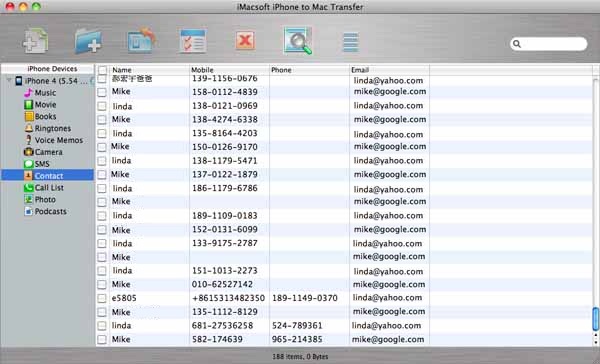 If you're looking for a comprehensive tool for managing your iPhone files including photos and contacts, then iMacSoft is worth downloading and taking for a spin.