Your new iPhone has arrived, and you're probably having a blast checking out the new features and showing it off to your friends.
You're also probably wondering how to copy everything from the old iPhone to the shiny new one - apps you've purchased, music, photos, contacts, email, notes - the whole enchilada.
Here are the steps I took to transfer everything from my old iPhone to my new one, by backing up my old iphone and then restoring the new iPhone from the backup. These same steps can be followed to fully backup an iPhone (and you might realize after reading this article that the backups you've been doing have not been fully backing up your purchased apps).
1. Backup the old iPhone
Connect your iPhone to your computer with the USB data cable and open iTunes. Wait for it to recognize your iPhone, and then right-click on your iPhone in the left side bar. Select "Backup" from the short-cut menu to start the backup.
The first backup took about 20 minutes on my iPhone, which was loaded with about 4 GB of data. I say first, because I ended up having to do it again because the first run didn't backup my purchased apps nor my music files.
Instead, I received an error message indicating that not everything was transferred, and that my computer wasn't authorized to play the items (even though I had already authorized my computer).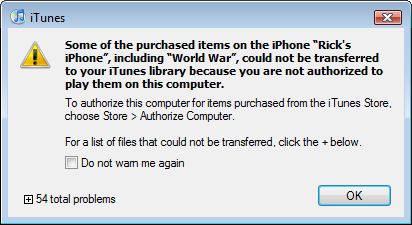 Turns out you have to tell iTunes to transfer purchased apps from your iPhone to your computer, and Apple didn't put the menu option in a prominent location.
2. Transfer Purchased Apps
When you purchase apps from your iPhone, they aren't included in the iTunes backup. You have to right-click on your iPhone in iTunes and select "Transfer Purchases".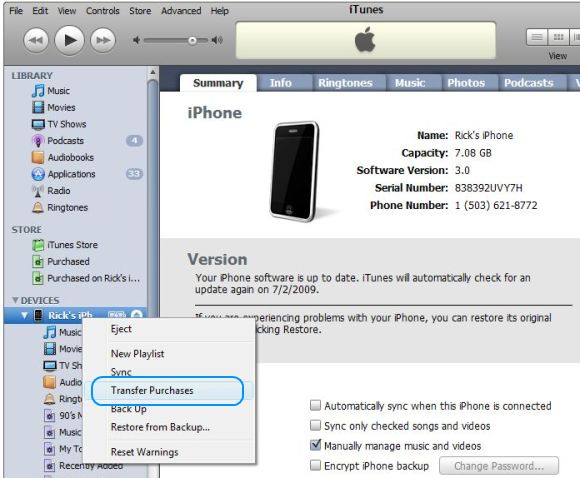 This copies over all of your purchased apps into iTunes, but they still wont' be part of the backup unless you select them.
Select your iPhone in iTunes and then click the "Applications" tab, and make sure that all of the apps are selected. Do the same thing with the Music and Videos tab, and make sure all of your songs and movies are selected.
Very important: Run the backup one more time to backup the apps, music, and movies we just selected.
3. Restore from the Backup
Now we're ready to transfer everything over to the new iPhone. Unplug the old iPhone and connect the new iPhone. Wait for iTunes to recognize it, and you should see it show up on the left sidebar just like the old one.
Right-click on your new iPhone in iTunes, and select "Restore from Backup". Choose the option to "Restore from the backup of" the old iPhone.
Important: Once the backup has finished, do one last sync and be sure to select everything you want transferred over (apps, music, etc).
This will copy everything over from the old iPhone to the new iPhone, including email accounts, contacts, photos, apps, etc. It won't delete any of the new iPhone apps either, like the new Compass or Voice Memos.
A few Gotchas worth pointing out:
I had to go in an enter passwords for the email accounts - those weren't transferred over, which actually makes sense from a security point of view.
Same thing for Wi-Fi networks. It didn't save my work or home Wi-Fi network settings, so I had to reconnect to them and re-enter the passwords for those networks.
Other then the hassle of transferring purchased apps and making sure everything was selected for the backup for Music, Applications, Videos, etc - this was a fairly smooth process that only took about 2 hours all together from start to finish.